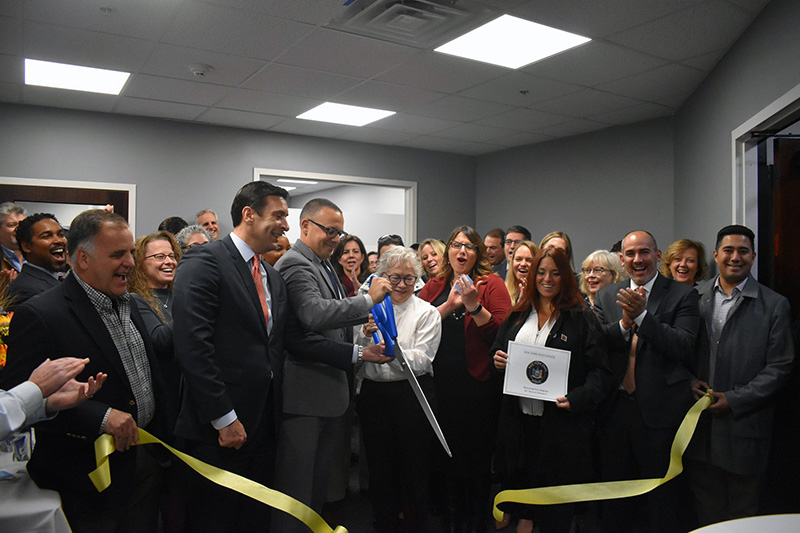 Cuddy & Feder partners Jennifer Van Tuyl and Anthony Morando cut the ribbon at the firm's Fishkill location unveiling their newly renovated office space. Photo courtesy of Steve Moses Photography.
On Friday, Nov. 15, Cuddy & Feder held a Ribbon Cutting Ceremony and Open House celebrating its newly renovated office space and its continued commitment to Dutchess County and the mid-Hudson Region.
A representative for New York State Senator Sue Serino was in attendance and presented the firm with a certificate of recognition.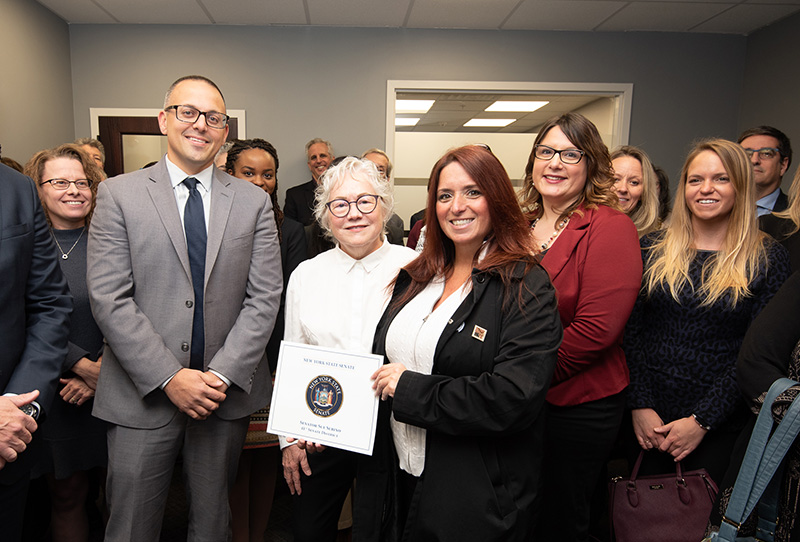 Photo courtesy of Steve Moses Photography.
"Our firm is pleased to have called Fishkill home for almost 20 years," said Partner Jennifer Van Tuyl. "We look forward to the next era here in the mid-Hudson region as we continue to serve clients locally and see the region grow."
The Hudson Valley office has been led by Jennifer Van Tuyl since it was opened in 2001 and has since grown to double its size adding two more partners and three associates. Jennifer has deep roots in the community and has served as Assistant District Attorney for Dutchess County, Village Attorney for Cold Spring, Confidential Law Secretary to County Court Judge Rosenblatt, Town Attorney for East Fishkill, Counsel to Town of Fishkill Planning Board, Deputy Town Attorney, Town of Philipstown, and Special Counsel to Town of Kent Planning Board. She was also a Member of Governor Cuomo's Task Force on Coastal Resources where she was Chair of the Growth Management Committee; and has served as a Member of the State Advisory Committee on Land Statutes – State of New York Legislative Commission on Rural Resources. The renovations have modernized the office, allowing the team to better serve its clients.
"We are extremely proud to recommit to Dutchess County and the surrounding area for many years to come," said Managing Partner Christopher B. Fisher. "It takes vision and tenacious execution to ensure we continue providing the best possible service to our clients in a way that reflects our commitment to them and the communities we serve. With Jennifer's leadership, we are excited to see our Dutchess County location continue to flourish."
"We are thrilled with our new office space and believe in the importance of investing in the communities in which we both live and work," said Partner Anthony Morando. "With a talented and diverse team of attorneys located right here in the Hudson Valley, we're focused on helping our clients and communities continue to prosper."
About Cuddy & Feder LLP
Cuddy & Feder LLP proudly serves clients in the areas of real estate; public and private finance (including tax-exempt and taxable bond financing); litigation & appellate practice; land use, zoning & development; telecommunications; energy & environmental; non-profit organizations; and trusts, estates & elder law. Over 45 years, we have established ourselves as the leading law firm serving a vast region that includes Westchester, New York City, Connecticut and the Hudson River Valley. Our foundation is local, and we enjoy enduring relationships with leaders, institutions and decision-makers in the communities we serve.
Corporate
,
Energy + Environmental
,
Finance
,
Land Use, Zoning + Development
,
Litigation
,
Non-Profit Organizations
,
Real Estate
,
Telecommunications
,
Trusts, Estates + Elder Law
The following materials, and all other materials on this website, are intended for informational purposes only, are not to be construed as either legal advice or as advertising by Cuddy & Feder LLP or any of its attorneys, and do not create an attorney-client relationship between you and Cuddy & Feder LLP. Please seek the advice of an attorney before relying on any information contained herein.