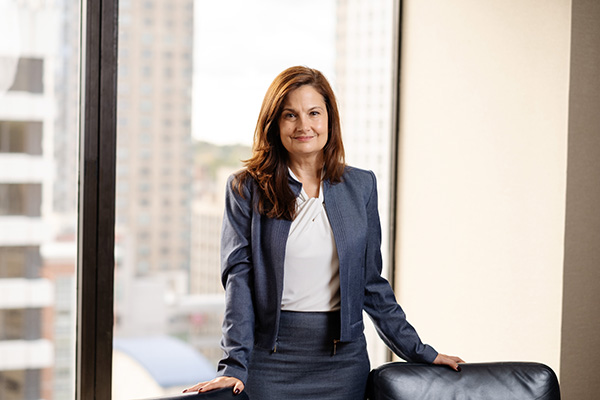 White Plains, N.Y. – Nov. 21, 2019 – Cuddy & Feder LLP announced that Joanne Romano has joined the firm as Special Counsel in the Real Estate Practice and liaison to the Corporate and Finance practices. She was formerly a partner at Kipness Romano LLC.
With over 20 years of experience in commercial real estate, Joanne's practice focuses on commercial leasing and the acquisition and sale of both residential and commercial real property. She advises her clients, which range from small business owners to national retailers, on a variety of matters, including brokerage agreements, store management and lease compliance issues, and has represented real estate developers and national retailers both as in-house counsel and outside counsel.
Joanne's clients have included L'Occitane, Charles Tyrwhitt, US Polo Association and Aeropostale. Her representation encompassed negotiating leases, subleases, lease assignments and multi-store acquisitions from companies in bankruptcy. She has extensive experience with lease administrative issues and has designed settlements to resolve lease disputes. Her commercial leasing experience has covered a wide range of property types including enclosed regional malls, neighborhood shopping centers, outlet centers and office buildings.
"Joanne's vast experience in the commercial real estate market and her specialized knowledge of leasing and acquisitions are excellent complements to our top-notch real estate practice," said Christopher B. Fisher, Managing Partner of Cuddy & Feder. "We are thrilled to have her join our firm."
Joanne received her J.D. from Pace University School of Law and a B.A. from State University of New York College at Oneonta. She is admitted to practice in New York.
About Cuddy & Feder LLP
Cuddy & Feder LLP proudly serves clients in the areas of real estate; public and private finance (including tax-exempt and taxable bond financing); litigation & appellate practice; land use, zoning & development; telecommunications; energy & environmental; non-profit organizations; and trusts, estates & elder law. Over 45 years, we have established ourselves as the leading law firm serving a vast region that includes Westchester, New York City, Connecticut and the Hudson River Valley. Our foundation is local, and we enjoy enduring relationships with leaders, institutions and decision-makers in the communities we serve.
The following materials, and all other materials on this website, are intended for informational purposes only, are not to be construed as either legal advice or as advertising by Cuddy & Feder LLP or any of its attorneys, and do not create an attorney-client relationship between you and Cuddy & Feder LLP. Please seek the advice of an attorney before relying on any information contained herein.