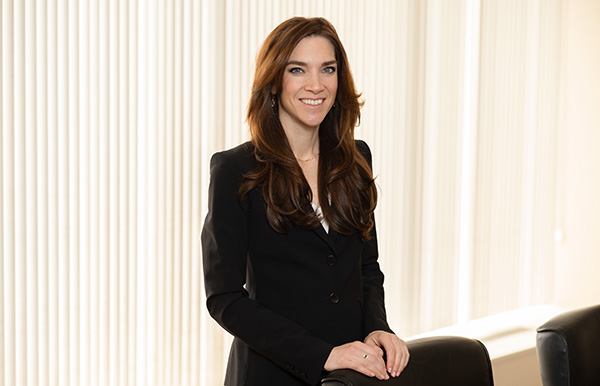 Kristen M. Motel
KMotel@cuddyfeder.com
914 761 1300
"There is no passion to be found playing small - in settling for a life that is less than the one you are capable of living." -Nelson Mandela
Kristen is a partner in the firm's Land Use, Zoning & Development, Energy & Environmental, Telecommunications, and Cannabis Law groups. Her practice includes federal, state and local environmental permitting and compliance, real estate development, and wireless telecommunications siting. She also serves as Chair of the firm's Cannabis Law practice. Kristen regularly represents national developers, homeowners and small businesses before municipal and state land use and environmental agencies. Her background in environmental compliance allows her to integrate technical experience into her legal representation. Clients consult with Kristen on various aspects of development and seek her advice regarding New York's State Environmental Quality Review Act, coastal redevelopment and numerous state and local land use laws.
Kristen's practice also includes advising clients in the emerging field of cannabis law. An active member of the Westchester County Bar Association's Cannabis Law Committee and the Hudson Valley Cannabis Industry Association, Kristen helps coordinate the progression of legal services needed to bring cannabis businesses from idea to reality.
Prior to joining Cuddy & Feder, Kristen clerked for the judges of the Connecticut Superior Court. While in law school, she interned at the Pace Environmental Litigation Clinic, the U.S. EPA Region 2's Superfund Division, and with Hon. Judge Cathy Seibel of the U.S. District Court for the Southern District of New York. Kristen has co-authored a paper on climate change adaptation that was presented at the 2014 Asia Pacific Center for Environmental Law Climate Change.
Kristen worked as an environmental consultant prior to becoming an attorney, serving as a compliance advisor for clients. The various projects she administered included wastewater, storm water, and air permitting, as well as hazardous materials operations and management.
Education
Pace University School of Law, J.D., magna cum laude, Certificate in Environmental Law; 2015
University of Rhode Island, B.S., cum laude; 2008
Admissions/Courts
Awards + Recognitions
Recipient of the Business Council of Westchester's Rising Star: 40 Under 40 Award honoring young professionals in Westchester County demonstrating leadership, foresight and excellence in their profession; 2023
Best Lawyers: Ones to Watch; 2023, 2024
New York Metro – Top Women Super Lawyers; 2021
Super Lawyers® New York Metro Edition Rising Stars; 2018-2023
Westchester Women's Bar Association Justice Sondra Miller Scholarship Recipient, 2015
Professional Associations
Executive Committee, New York State Bar Association, Local and State Government Law Section
Westchester County Association, Co-Chair of the Real Estate Sustainability Subcommittee
Westchester Women's Bar Association, Past State Director, Past Vice President
New York Bar Association
Westchester County Bar Association
Hudson Valley Cannabis Industry Association
Presentations + Publications
"Sustainability & the Built Environment – Implications for the Real Estate Sector"
Westchester County Association Profit & Purpose Sustainable Business Conference
Moderator
June 1, 2023
"Cannabis & Real Estate"
Westchester Women's Bar Association
Speaker
CLE Seminar
February 7, 2023
"Encore: Local Regulation of Cannabis Now That the Regulations Are Out"
NYSBA Annual Meeting, Local and State Government Law Section
Speaker
January 24, 2023
"Cannapreneurs: Business Opportunities in Cannabis"
The New Grow Center
Speaker
November 30, 2022
"Cannabis in the Communities and Local Considerations"
NYSBA Local and State Government Law Section Fall 2022 Meeting
Speaker
October 15, 2022
"Cannabis and Land Use and Zoning Regulation in New York"
New York Zoning Law and Practice Report
March/April 2022
Author
"New York Adult Use Cannabis: What you Need to Know"
WWBA, WPBA, WCBA
January 27, 2022
CLE Seminar
Panelist
"New York Adult Use Marijuana: What You Need to Know"
Westchester County Bar Association
May 24, 2021
CLE Seminar
Presenter
"Economic Forecast for Developing Communities in the Hudson Valley"
Society for Professional Marketing Services
November 10, 2021
Panelist
"WATER: Conservation, Mitigation, Creation & Restoration"
2019 Residential Design Expo
ASLA Connecticut
October 2019
Panelist
"Ancient Streets: Creation of the Implied Easement"
Municipal Lawyer, September 2018
Author
"Zoning and Land Use Principles for CT Vineyards & Wineries"
CT Vineyard and Winery Association's Annual Meeting on Zoning and Land Use
February 2017
Speaker
"Adaptation to Climate Change: ASEAN & Comparative Experiences"
World Scientific, September 2015
Co-Author
From the Blog
Community Service
Annual Volunteer for the NY Department of Environmental Conservation (DEC) – Amphibian Migrations & Road Crossings Project
Westchester County Bar Association, Cannabis Law Committee
Westchester County Executive's Climate Crisis Task Force, Land Use Initiative Co-Chair
Westchester Women's Bar Association; Environmental & Land Use Committee, New Lawyers Committee, Membership Committee, and Networking Committee
University of Rhode Island, We're Offering Women Wisdom, Founder & Board of Directors Member
Extracurricular
Kristen enjoys hiking and helping out at her family's vineyard.
She also loves flower gardening and is an avid runner.