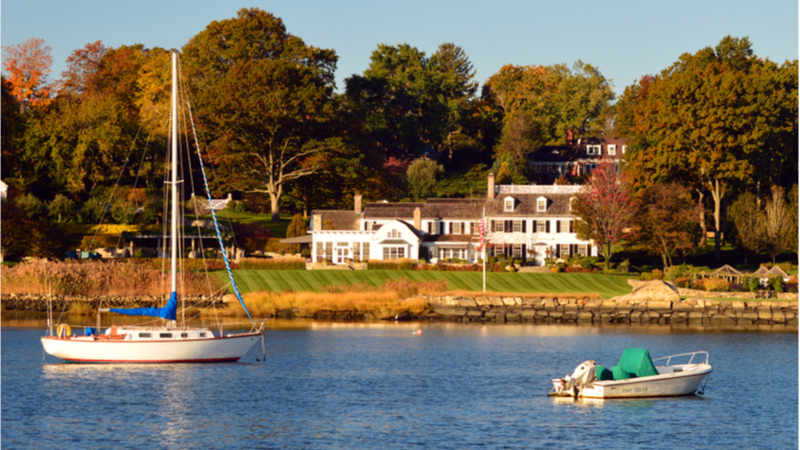 The majority of land along Long Island Sound and major rivers in New York and Connecticut are located within a special flood hazard area, otherwise known as the "100-year flood zone." Floodplain development standards apply to a wide range of land use projects in the 100-year flood zone, including both large commercial redevelopments and single-family home renovations. For many of the communities in this area, flooding is a major problem and compliance with Federal and newly-updated local laws is a hot topic.
Given the heightened concerns over floodplain development standards and new municipal initiatives, Cuddy & Feder's land use attorneys are seeing both commercial and residential projects impacted by requirements for compliance with flood zone regulations. Be it a new multi-family residential building, shopping center, addition to an existing home, tennis court restoration or even a new pool, floodplain development requirements can impact many types of projects.
Federal Guidance
The National Flood Insurance Program (NFIP) is administered by the Federal Emergency Management Agency (FEMA) and provides financial protection to property owners by offering flood insurance. FEMA's Flood Insurance Rate Maps (FIRMs) identify flood hazards and risks for specified areas by classifying them into flood zones and assigning Base Flood Elevations which reflect the area of land that has a 1 percent chance of flooding in a given year.
When planning a project, it is important to know if you are in a special flood hazard area and if so, what the designation of flood zone and Base Flood Elevation the property is classified in.
FEMA flood zones are not only used to determine insurance requirements and costs, they determine construction standards and prohibitions for development. FEMA's detailed design and construction standards can apply to new buildings, accessory structures and the alteration of some existing buildings that constitute a "Substantial Improvement." These standards vary depending on the classification of the flood zone and in some areas, can prohibit certain designs altogether.
Additional Local Laws
In addition to federal law requirements, New York and Connecticut state laws require municipalities to adopt and enforce local flood plain management laws for flood-prone areas to reduce the risk of flooding. Many communities have adopted their own floodplain development laws that exceed FEMA's technical standards, so it is important to review more than just the federal design bulletins when planning for a project. For example, design restrictions prohibit a basement in all areas of special flood area, due to concerns of hydrostatic pressure and flood forces on exterior walls that can compromise structural integrity of the building. The lowest habitable floor of the home must be elevated to or above base flood level, depending on what the local code requires for the flood zone classification. Another common obstacle is the restriction of or prohibition of fill, depending on the flood zone classification. This restriction can impact plans for accessory structures, such as tennis courts and pools. Note that many of these standards are applicable to renovations of older homes if the alterations constitute a "substantial improvement."
A local official or agency is typically designated to administer the floodplain management program and will review architectural and engineering plans for compliance with floodplain requirements and issuance of a separate floodplain development permit.
Pending Updates and Amendments to Flood Zone Classification
The existing FIRMs for many local areas, including Westchester County, have proven outdated given technical advances in surveying and engineering capabilities. FEMA, in collaboration with State, county and local governments, is in the process of updating the flood maps to reflect more accurate elevations, water flow and drainage patterns based on available technology. Until the preliminary maps are finalized however, all development must adhere to standards for the property's officially designated flood zone. Relief may however be available for those property owners seeking to make improvements in an area that is inaccurately classified. Flood maps can be corrected to reflect actual current elevations, which can change the flood zone classification of a property or structure. Such a request is made to FEMA through the Letter of Map Amendment (LOMA) or a Letter of Map Revision (LOMR) process. This process of amending or revising a flood map to reflect accurate conditions must be completed before filing a building permit or site plan application with the municipality because noncompliance with floodplain development standards precludes any other local approval authority or action. In rare instances, variances from these standards can be granted by the designated floodplain appellate body, commonly the Planning Board.
When planning a project, it is important to know if you are in a special flood hazard area and if so, what the designation of flood zone and Base Flood Elevation the property is classified in. We recommend having a recent and accurate survey of the property conducted so elevations can be reviewed and working with an architect who is familiar with floodplain development design standards. Cuddy & Feder's land use attorneys can assist with flood zone development and have extensive experience working with FEMA's mapping specialist and engineers to amend flood zone classification and have also obtained variances from local floodplain development codes in cases of specialized circumstances.
The following materials, and all other materials on this website, are intended for informational purposes only, are not to be construed as either legal advice or as advertising by Cuddy & Feder LLP or any of its attorneys, and do not create an attorney-client relationship between you and Cuddy & Feder LLP. Please seek the advice of an attorney before relying on any information contained herein.