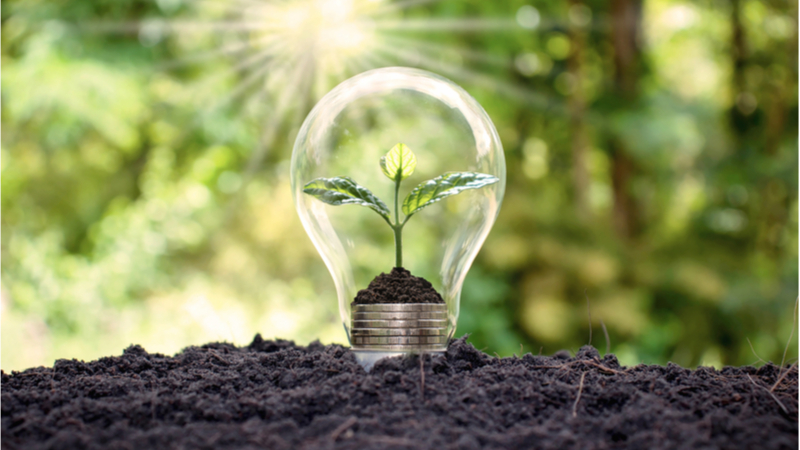 In April 2020, New York State enacted the Accelerated Renewable Energy Growth and Community Benefit Act, which has been codified as New York State Executive Law § 94-c. The purpose of the Act is to expedite the review and permitting of major renewable energy facilities to help New York achieve its renewable energy targets as required by New York's 2019 Climate Leadership and Community Protection Act (CLCPA).
A comprehensive introduction to the Accelerated Renewable Energy Growth and Community Benefit Act (the Act) and its potential long-term impacts is found in Neil J. Alexander's "Support for the Energy Sector in New York State, Part 3: Long-Term" blog. As noted, the new siting rules will ensure that renewable projects larger than 25 megawatts (MW) can receive approval within a year of the application being deemed complete, which is in stark contrast with the previous siting process that could take several years or more. To help achieve this end, the Act established the Office of Renewable Energy Siting (ORES) to administer the expedited siting process in a predictable and timely manner, while providing opportunities for input from local municipalities. The ORES is tasked with promulgating regulations within a year and correspondingly issued its first draft regulations for public comment on September 16, 2020. Five in-person public hearings and two virtual public hearings on the draft regulations will be held across the state in November of this year. More detailed information on the public hearings, which begin next week, is available here.
Pre-Application Reports, Studies, and Local Engagement
The draft regulations include several notable features. Among the more salient aspects, the regulations require significant pre-planning before submitting an application to ORES and a completeness determination is made, which starts the clock on the one-year approval period:
Consultation with local agencies is required no less than 60 days before an application is filed. The Applicant must also meet with community members who may be adversely impacted with notice mailed to all persons within one (1) mile of a proposed solar facility or within five (5) miles of a proposed wind facility. Notice must also be provided no less than three (3) days before the date an application is filed.
At the earliest possible time in the preliminary project planning any Federal, State or locally regulated streams, wetlands and waterbodies must be delineated. The draft wetland and stream delineation reports must be submitted to the ORES and NYSDEC with ORES providing a final approved jurisdictional determination to the Applicant within 60 days of receipt of the Applicant's draft reports.
The Applicant must also conduct a wildlife site characterization and provide the results to the ORES and NYSDEC. The Applicant shall then meet with the ORES and NYSDEC within four weeks of delivery of the draft wildlife report unless the meeting is waived by agreement. Habitat assessments and/or survey reports may also be required based on the characteristics of the site.
If any portion of the project is within an area of archeological sensitivity an Applicant must conduct a Phase IA archeological/cultural resources study and submit the results to the ORES who will inform the Applicant as to whether a Phase IB field study is required. If warranted by the Phase I studies, the Applicant may also be required to conduct a Phase II site evaluation to assess the boundaries, integrity and significance of cultural resources identified.
Lastly, if an Applicant is seeking a permit for a major renewable energy facility other than a solar facility or a wind facility, it must consult with ORES one year prior to submitting an application. Any Applicant is afforded the opportunity to request a pre-application consultation with ORES.
Compliance (or Non-Compliance) with Local Laws
Another notable feature of the Act and draft regulations is that Applicants are directed to construct and operate a facility in accordance with applicable local laws, except for those local laws that ORES determines, at its discretion, to be unreasonably burdensome. For each local law identified by an Applicant a statement justifying the exemption request must be provided.
The statement must demonstrate:
There are technological limitations that would make compliance technically impossible, impractical or otherwise unreasonable;
The costs to consumers associated with applying the identified local substantive requirements would outweigh the benefits of applying such provision; or
The needs of consumers for the facility outweigh the impacts on the community that would result from refusal to apply the identified substantive requirements.
Considering the foregoing, ORES may elect to not apply an identified requirement if it finds such requirement is unreasonably burdensome in view of the CLCPA targets and the environmental benefits provided by the facility. Local laws which the Applicant believes are unduly restrictive must also be identified for the local agencies as part of the preapplication consultation process along with an explanation of all efforts by the Applicant to comply with such local provisions. Municipalities further participate in the process by filing a statement of local law compliance with the ORES which can lead to an adjudicatory hearing if substantive and significant issues are raised.
Compliance with local setback requirements is one area that may provide the potential for reoccurring conflict. The setbacks established by the draft regulation's Uniform Standards and Conditions are summarized in Tables 1 and 2: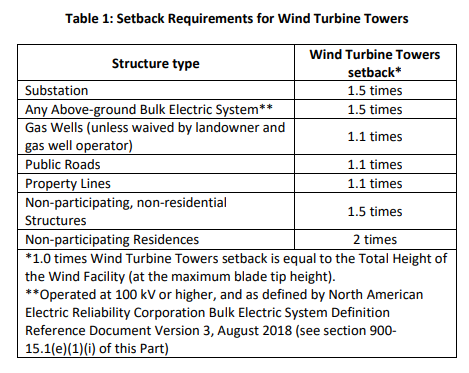 The Uniform noise standards present another area of potential conflict with local regulation. The draft regulations establish that a maximum noise limit of 45 dBA for any non-participating residence and 55 dBA for any participating residence is permitted for both wind and solar facilities. Additionally, facilities are permitted on agricultural lands and where a facility proposes to permanently or temporarily impact active agricultural lands, the facility must be constructed in accordance with the New York State Department of Agriculture and Markets Mitigation Guidelines. This includes retaining an independent third-party consultant to monitor compliance with the required agricultural mitigation plan.
Host Community Benefits
To offset any potential burden, the Act and draft regulations also require the Applicant to provide host community benefits. A proposal was released by Department of Public Service Staff on September 23, 2020 suggesting that residential electric utility customers residing in a host community receive an annual bill credit for each of the first 10 years that the facility operates in the community. Facility owners would make an annual contribution of $500 per megawatt for major solar facilities and $1,000 per megawatt for a major wind facility which would be distributed equally among the residential utility customers of the community.
Determination of Completeness
Once an Applicant meets all of its pre-application obligations and submits an application to ORES it must be deemed "complete" before the prescriptive time limit to issue a permit accrues. The ORES must make this determination of completeness or incompleteness within sixty (60) days of receipt of the application. If the application is determined incomplete, ORES must notify the Applicant and list all identified areas of incompleteness and a description of the specific deficiencies. If the ORES fails to provide notice of its determination within sixty (60) days, the application is deemed complete. Notably, applications may only be amended prior to the notice of completeness, and amendments defined as "major" must additionally receive the express written permission of ORES before they can be filed.
As noted above, ORES must act on an application within one (1) year of the Office deeming the application complete and within six (6) months of the Office deeming an application complete for facilities which are proposed for a "repurposed" site such as a brownfield, landfill or other previously disturbed commercial or industrial use property.
For more information on the Act and the draft regulations contact energy@cuddyfeder.com.
The following materials, and all other materials on this website, are intended for informational purposes only, are not to be construed as either legal advice or as advertising by Cuddy & Feder LLP or any of its attorneys, and do not create an attorney-client relationship between you and Cuddy & Feder LLP. Please seek the advice of an attorney before relying on any information contained herein.