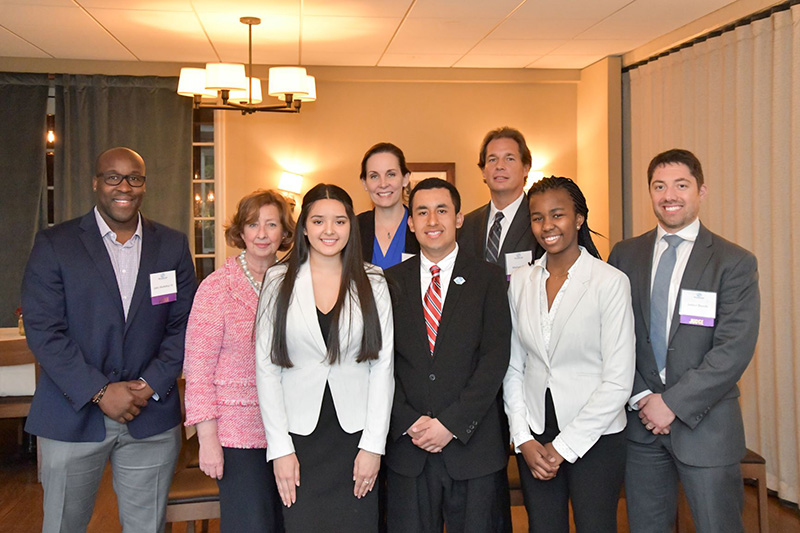 On Tuesday, April 9, the Boys & Girls Club of Northern Westchester held its annual Youth of the Year Reception at Crabtree's Kittle House. The Youth of the Year is the Club's premier youth leadership program, recognizing youth who display a commitment to education, dedication to service and the ability to be a leader among their peers.
To participate in the program, candidates were required to prepare essays, provide transcripts, complete community service and obtain letters of reference, all before presenting to a panel of judges. The Club's three finalists, Eric Duarte, Marie Kazibwe and Yensi Rodriguez, each gave a brief presentation to the panel, before being interviewed individually by the judges.
The panel, including Cuddy & Feder LLP Partner (and Boys & Girls Club of Northern Westchester Board Member) Jordan Brooks, then deliberated to determine the 2019 Youth of the Year – Marie Kazibwe!
"It was a great honor to serve as a judge for the Youth of the Year event," said Jordan Brooks. "Although all three candidates were remarkable, Marie is an incredible young woman and trailblazer. I'm very excited to see her future accomplishments."
The judges also decided the winner of the Chris Cutri Memorial Award (named in honor of a devoted Club alum who passed away following a battle with leukemia) and the Wilfred E. Jennings Leadership Award (named in honor of a long-time Club program director). The 2019 Chris Cutri Award Winner was Yensi Rodriguez and the 2019 Wilfred E. Jennings Award Winner was Eric Duarte.
In addition to Mr. Brooks, the distinguished panel of judges included John McArthur IV (Director of Athletics & Physical Education at Soundview Preparatory School), Michael Orth (Commissioner, Westchester County Department of Community Mental Health), Pat Stone (Executive Director, JPMorgan Chase Bank, NA) and Johannah Townsend (Human Resources Management, Boys & Girls Club of Northern Westchester Board Member).
About the Club
Between 500 – 750 kids attend the Boys & Girls Club of Northern Westchester in Mount Kisco daily, a safe place with committed teachers, mentors, tutors and volunteers. Over 95,000 free, nutritious meals are served to the children in after school programs each year— over 70% of whom live at or below the poverty level. In addition, over 50,000 kids have learned to be water-safe, while learning the benefits of physical fitness and good health. For nine years running, 100% of the Club's high school seniors, including those deemed at-risk, have graduated on time and gone on to college or technical school.
Corporate
,
Energy + Environmental
,
Finance
,
Land Use, Zoning + Development
,
Litigation
,
Non-Profit Organizations
,
Real Estate
,
Telecommunications
,
Trusts, Estates + Elder Law
The following materials, and all other materials on this website, are intended for informational purposes only, are not to be construed as either legal advice or as advertising by Cuddy & Feder LLP or any of its attorneys, and do not create an attorney-client relationship between you and Cuddy & Feder LLP. Please seek the advice of an attorney before relying on any information contained herein.