On June 6, 2019, the 24th Burke Award Dinner will be held at the Brae Burn Country Club in Purchase, NY. The Burke Award recognizes strength and courage in overcoming the challenge of a disability or a significant contribution to the understanding of physical disability.
Burke Rehabilitation Hospital has been a leader in medical rehabilitation for more than one hundred years. Burke is accredited by the Joint Commission and the Commission on Accreditation of Rehabilitation Facilities. These two accrediting organizations are the gold standards for acute care rehabilitation hospitals in the United States today. The 150-bed acute rehabilitation hospital located in White Plains, NY is entirely dedicated to adult rehabilitation medicine. Burke joined the Montefiore Health System in 2016 and is now academically affiliated with the prestigious Albert Einstein College of Medicine.
The Award Dinner is Burke's largest fundraiser of the year. For tickets and sponsorship, please contact Liz Walsh, 914-597-2876, ewalsh@burke.org.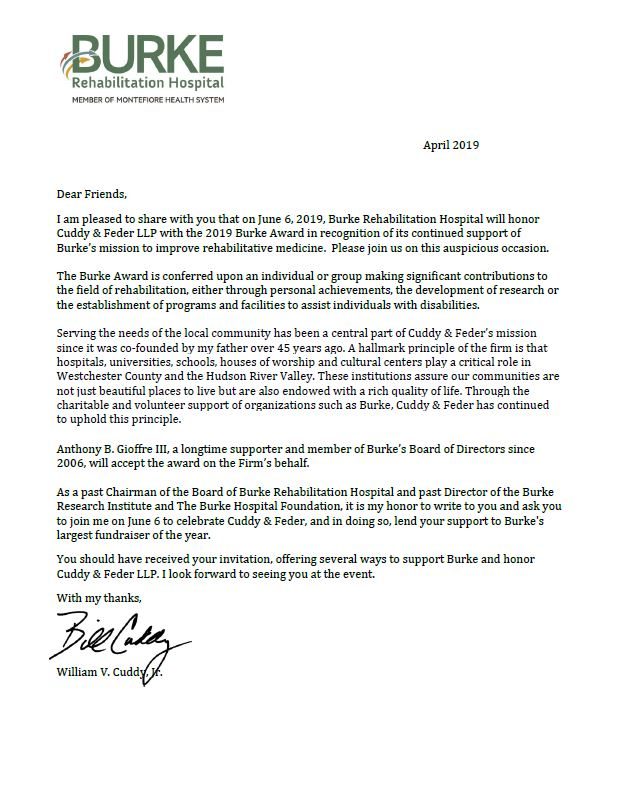 Corporate
,
Energy + Environmental
,
Finance
,
Land Use, Zoning + Development
,
Litigation
,
Non-Profit Organizations
,
Real Estate
,
Telecommunications
,
Trusts, Estates + Elder Law
The following materials, and all other materials on this website, are intended for informational purposes only, are not to be construed as either legal advice or as advertising by Cuddy & Feder LLP or any of its attorneys, and do not create an attorney-client relationship between you and Cuddy & Feder LLP. Please seek the advice of an attorney before relying on any information contained herein.