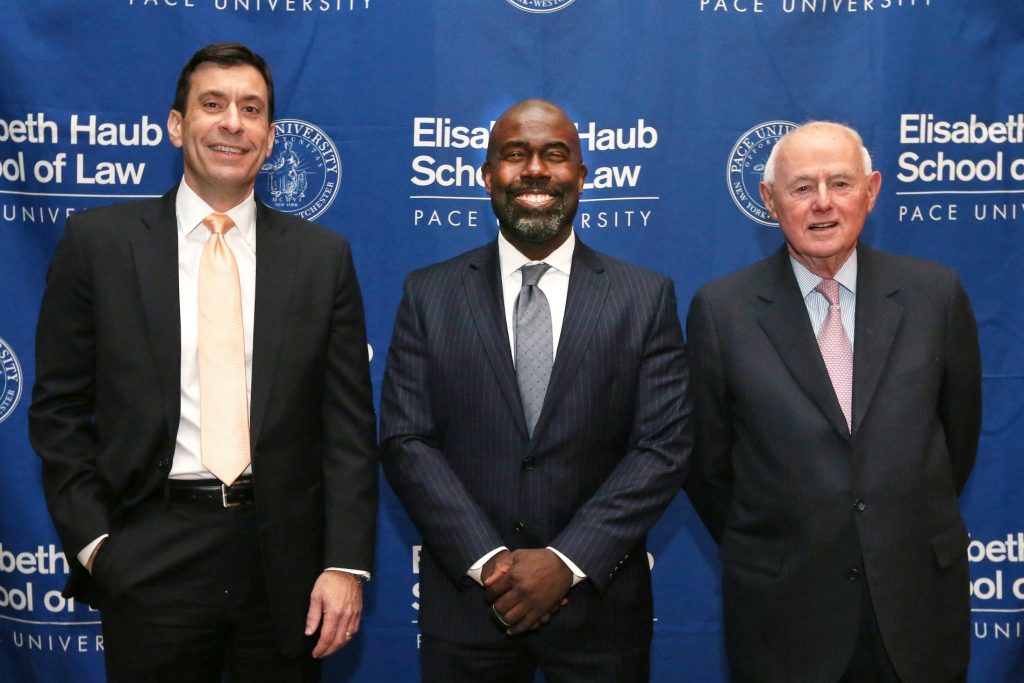 On Thursday, March 7, 2019, Pace University held its 24th Annual Law Leadership Awards Dinner at the Westchester Country Club. Over 200 guests came to celebrate the evening.
This year's Distinguished Service Award recipients included our own Managing Partner, Christopher B. Fisher, pictured here with fellow honoree, Dennis J. Kenny, Esq. and the Dean of Pace University, Horace Anderson, Jr. In accepting the award, Mr. Fisher spoke passionately about his path to becoming a lawyer 25 years ago and his calling to serve others through his dedicated commitment to the law, leadership at Cuddy & Feder, Member of the Pace Law Board of Visitors, and Board Member of the Westchester County Association.
The annual dinner brings together prominent alumni, legal academics, judges and lawyers to celebrate the recipients of the Distinguished Service Award.
About Cuddy & Feder LLP
Cuddy & Feder LLP proudly serves clients in the areas of real estate; public and private finance (including tax-exempt and taxable bond financing); litigation & appellate practice; land use, zoning & development; telecommunications; energy & environmental; non-profit organizations; and trusts, estates & elder law. Over 45 years, we have established ourselves as the leading law firm serving a vast region that includes Westchester, New York City, Connecticut and the Hudson River Valley. Our foundation is local, and we enjoy enduring relationships with leaders, institutions and decision-makers in the communities we serve.
Corporate
,
Energy + Environmental
,
Finance
,
Land Use, Zoning + Development
,
Litigation
,
Non-Profit Organizations
,
Real Estate
,
Telecommunications
,
Trusts, Estates + Elder Law
The following materials, and all other materials on this website, are intended for informational purposes only, are not to be construed as either legal advice or as advertising by Cuddy & Feder LLP or any of its attorneys, and do not create an attorney-client relationship between you and Cuddy & Feder LLP. Please seek the advice of an attorney before relying on any information contained herein.