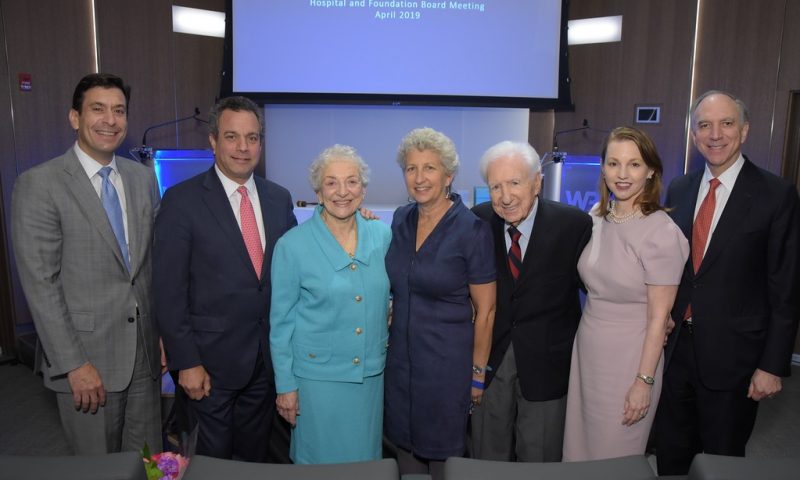 On April 22, Cuddy & Feder partner Bill Null was honored with the first White Plains Distinguished Leadership Award by White Plains Hospital, recognized for his leadership by his peers and the community. The award was presented at White Plains Hospital following the groundbreaking ceremony for a new 250,000 square-foot outpatient facility.
Bill was elected to the White Plains Hospital board 17 years ago and, during his term, became deeply involved serving on several committees including the Executive, Finance, Physicians Liaison, and Facilities, as well as chairing the Real Estate and Legal Committees.
Bill has been instrumental in the hospital's expansion and a driving force in guiding the hospital with the groundbreaking of the outpatient facility. His unique expertise in land-use and deep knowledge of the principles of zoning and real estate law have been crucial as the hospital undertook unprecedented growth and enhancement of its facilities over the past decade. He advocated for these projects to be thoughtfully integrated into the landscape of the community, sensitive to the values of the existing environment, its residents and its businesses.
"I'm deeply honored for this award. White Plains Hospital is what it is today because of the remarkable physicians, staff, administration and the visionary leadership," said Bill Null. "I can do what I do because of the support of my family and the support and commitment of Cuddy & Feder."
The Firm has been deeply committed to White Plains Hospital starting with one of its founding partners, Bob Feder, who was a long-time board member and two-time chairman. According to J. Michael Divney, immediate past chairman of White Plain's hospital, "Bob set the standard for what it meant to be a board member for a hospital."
About Cuddy & Feder, LLP
Cuddy & Feder LLP proudly serves clients in the areas of real estate; public and private finance (including tax-exempt and taxable bond financing); litigation & appellate practice; land use, zoning & development; telecommunications; energy & environmental; non-profit organizations; and trusts, estates & elder law. Over 45 years, we have established ourselves as the leading law firm serving a vast region that includes Westchester, New York City, Connecticut and the Hudson River Valley. Our foundation is local, and we enjoy enduring relationships with leaders, institutions and decision-makers in the communities we serve.
Corporate
,
Energy + Environmental
,
Finance
,
Land Use, Zoning + Development
,
Litigation
,
Non-Profit Organizations
,
Real Estate
,
Telecommunications
,
Trusts, Estates + Elder Law
The following materials, and all other materials on this website, are intended for informational purposes only, are not to be construed as either legal advice or as advertising by Cuddy & Feder LLP or any of its attorneys, and do not create an attorney-client relationship between you and Cuddy & Feder LLP. Please seek the advice of an attorney before relying on any information contained herein.