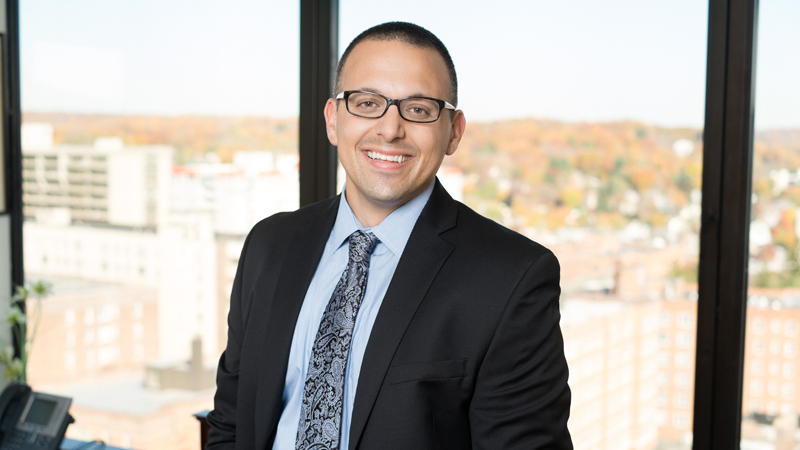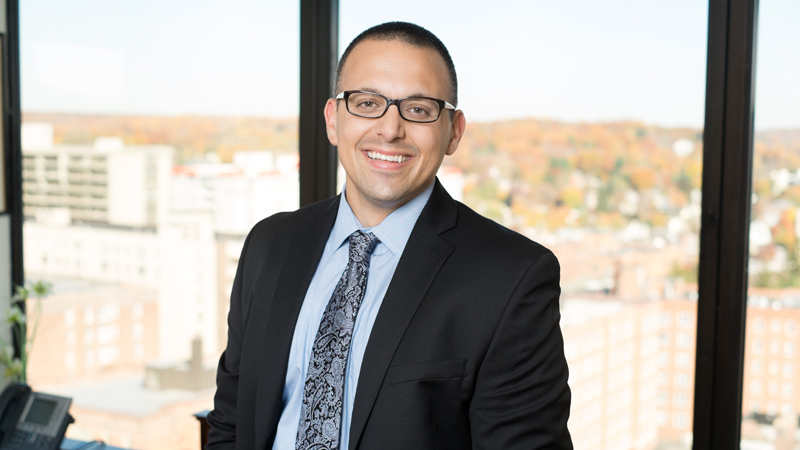 Cuddy & Feder LLP is pleased to announce that Anthony F. Morando has been promoted to partner, effective January 1st, 2018. He was previously a senior associate in the firm's Hudson Valley office. Mr. Morando's practice includes most facets of land use, zoning and energy infrastructure, as well as wireless telecommunications siting.
As one of the firm's three LEED® AP attorneys, Mr. Morando's work with the firm also involves assisting project teams with green building and sustainable development requirements. Clients consult with Mr. Morando on various aspects of infrastructure and real estate development and seek his advice regarding the Telecommunications Act, New York's State Environmental Quality Review Act and numerous other federal, state and local laws regulating development.
The Dutchess County Regional Chamber of Commerce selected him as a member of the 2016 "40 Under 40" Class for his professional success and contributions to the community. Mr. Morando has also been recognized by Super Lawyers as a Rising Star for Upstate New York in the past two years. Mr. Morando will help lead the Firm's Hudson Valley Office and the Firm's services in the region including the counties of Dutchess, Orange, Putnam, Rockland, Sullivan and Ulster.
"We congratulate Anthony on reaching this professional milestone and are thrilled to have him join the firm's partnership," said Chris Fisher, the firm's managing partner. "His experience working in the Hudson Valley, one of America's most vibrant regions, and with several municipalities planning and executing on smart growth initiatives, is a valuable asset to our firm. We look forward to his leadership and supporting our presence in the region which is home to numerous Fortune 500 companies, entrepreneurs and a growing tourism and craft food & beverage economy."
Mr. Morando is admitted to practice in New York and Connecticut, and is also admitted to practice before the U.S. District Court for the Southern District of New York and the U.S. Court of Appeals for the Second Circuit. Prior to joining Cuddy & Feder in 2008, Anthony interned with the Westchester County Supreme Court, Office of the Administrative Judge for the Ninth Judicial District. While in college, Anthony interned for members of the U.S. Senate and House of Representatives. He holds a J.D. from Pace University School of Law, and a B.A. from University of Delaware.
About Cuddy & Feder LLP
Cuddy & Feder LLP proudly serves clients in the areas of real estate; public and private finance (including tax-exempt and taxable bond financing); litigation & appellate practice; land use, zoning & development; telecommunications; energy & environmental; non-profit organizations; and trusts, estates & elder law. Over 45 years, we have established ourselves as the leading law firm serving a vast region that includes Westchester, New York City, Connecticut and the Hudson River Valley. Our foundation is local, and we enjoy enduring relationships with leaders, institutions and decision-makers in the communities we serve.
Corporate
,
Energy + Environmental
,
Finance
,
Land Use, Zoning + Development
,
Litigation
,
Non-Profit Organizations
,
Real Estate
,
Telecommunications
,
Trusts, Estates + Elder Law
The following materials, and all other materials on this website, are intended for informational purposes only, are not to be construed as either legal advice or as advertising by Cuddy & Feder LLP or any of its attorneys, and do not create an attorney-client relationship between you and Cuddy & Feder LLP. Please seek the advice of an attorney before relying on any information contained herein.