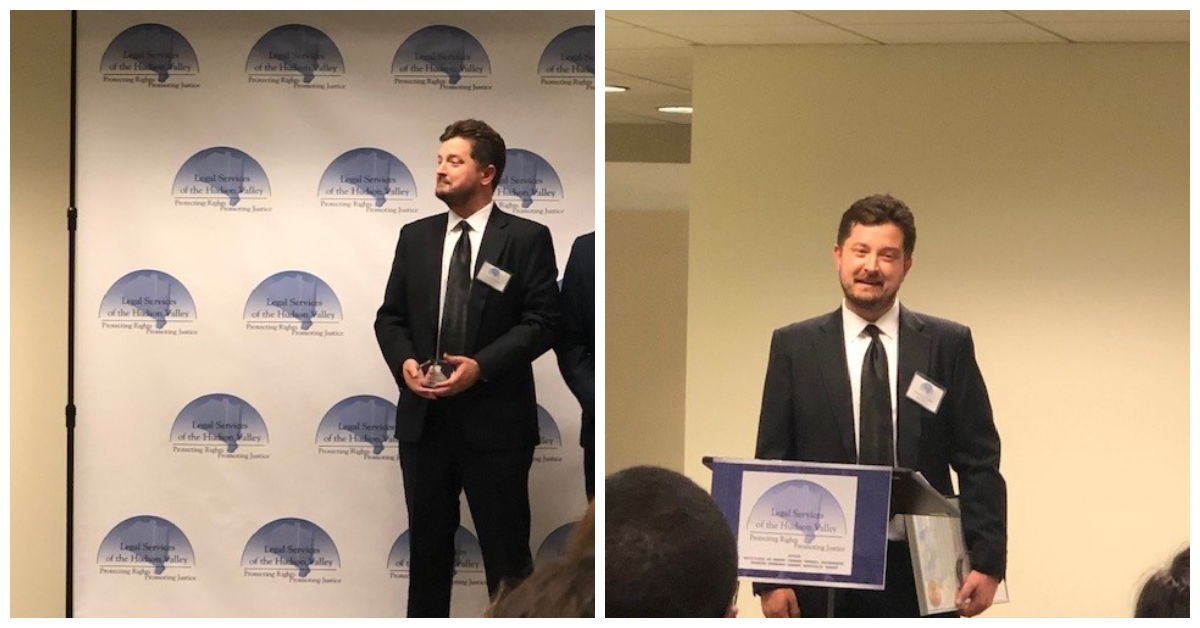 White Plains, NY—October 27, 2022—Cuddy & Feder is pleased to announce that Legal Services of the Hudson Valley (LSHV) honored Kempshall McAndrew as a Pro Bono Housing Project Volunteer at their 2022 National Pro Bono Week Awards Ceremony held on Wednesday, October 26th. The ceremony was held at LSHV's newest satellite office in the Gateway Building in White Plains.
LSHV is a nonprofit law firm dedicated to protecting rights and promoting justice. It provides support, advocacy and high quality civil legal representation to poor and low-income families and individuals in Westchester and the surrounding counties. LSHV recruits private attorneys and law firms to volunteer their time and expertise in order to help LSHV handle cases they would not be able to do otherwise. Pro Bono Housing Volunteers represent LSHV clients in landlord/tenant proceedings.
Kempshall an associate in the firm's litigation group, and deals with all aspects of civil litigation ranging from complex land use matters to commercial and residential landlord-tenant proceedings. Over the past year, he assisted multiple LSHV clients, and was able to help them avoid eviction, negotiate with their landlords, proceed through previously-commenced litigation, and apply for rental assistance programs.
About Cuddy & Feder LLP
Cuddy & Feder LLP proudly serves clients in the areas of real estate; public and private finance (including tax-exempt and taxable bond financing); litigation & appellate practice; land use, zoning & development; telecommunications; cannabis law; energy & environmental; non-profit organizations; and trusts, estates & elder law. For over 50 years, we have established ourselves as the leading law firm serving a vast region that includes Westchester, New York City, Connecticut and the Hudson River Valley. Our foundation is local, and we enjoy enduring relationships with leaders, institutions and decision-makers in the communities we serve.
The following materials, and all other materials on this website, are intended for informational purposes only, are not to be construed as either legal advice or as advertising by Cuddy & Feder LLP or any of its attorneys, and do not create an attorney-client relationship between you and Cuddy & Feder LLP. Please seek the advice of an attorney before relying on any information contained herein.