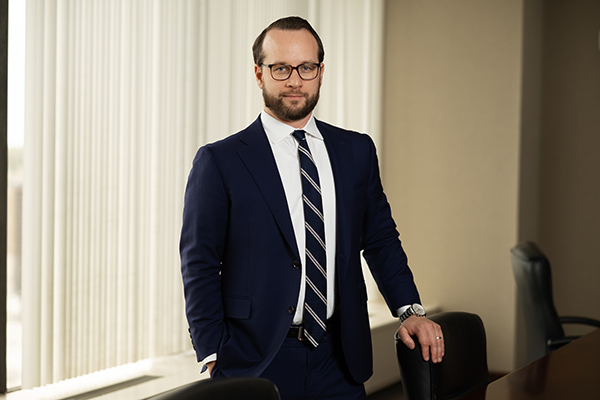 White Plains, NY—October 24, 2022—Cuddy & Feder is pleased to announce that the Land Use Law Center will honor Taylor Palmer – a partner in the Firm's Land Use, Zoning & Development and Energy & Environmental practice groups – with the Distinguished Young Attorney award at its Founder's Award Reception on Wednesday, December 7th. The Distinguished Young Attorney award is bestowed on attorneys who have demonstrated excellent service and commitment to land use, zoning and sustainable development law, and to the industry and Hudson Valley region that the Land Use Law Center celebrates.
Taylor is a 2012 graduate of Pace Law School and a former research assistant to Professor John R. Nolon of the Land Use Law Center, who will also be honored by the Land Use Law Center with the Founder's Award/Groundbreaker's Award at the reception. The Founder's Award Reception precedes the Land Use Law Center's 21st Annual Land Use and Sustainable Development Conference on December 8th. The reception will take place at Haub Law School at Pace University, Tudor Room, 78 North Broadway, White Plains, New York from 6:00pm – 9:00pm.
About Cuddy & Feder LLP
Cuddy & Feder LLP proudly serves clients in the areas of real estate; public and private finance (including tax-exempt and taxable bond financing); litigation & appellate practice; land use, zoning & development; telecommunications; cannabis law; energy & environmental; non-profit organizations; and trusts, estates & elder law. For over 50 years, we have established ourselves as the leading law firm serving a vast region that includes Westchester, New York City, Connecticut and the Hudson River Valley. Our foundation is local, and we enjoy enduring relationships with leaders, institutions and decision-makers in the communities we serve.
The following materials, and all other materials on this website, are intended for informational purposes only, are not to be construed as either legal advice or as advertising by Cuddy & Feder LLP or any of its attorneys, and do not create an attorney-client relationship between you and Cuddy & Feder LLP. Please seek the advice of an attorney before relying on any information contained herein.