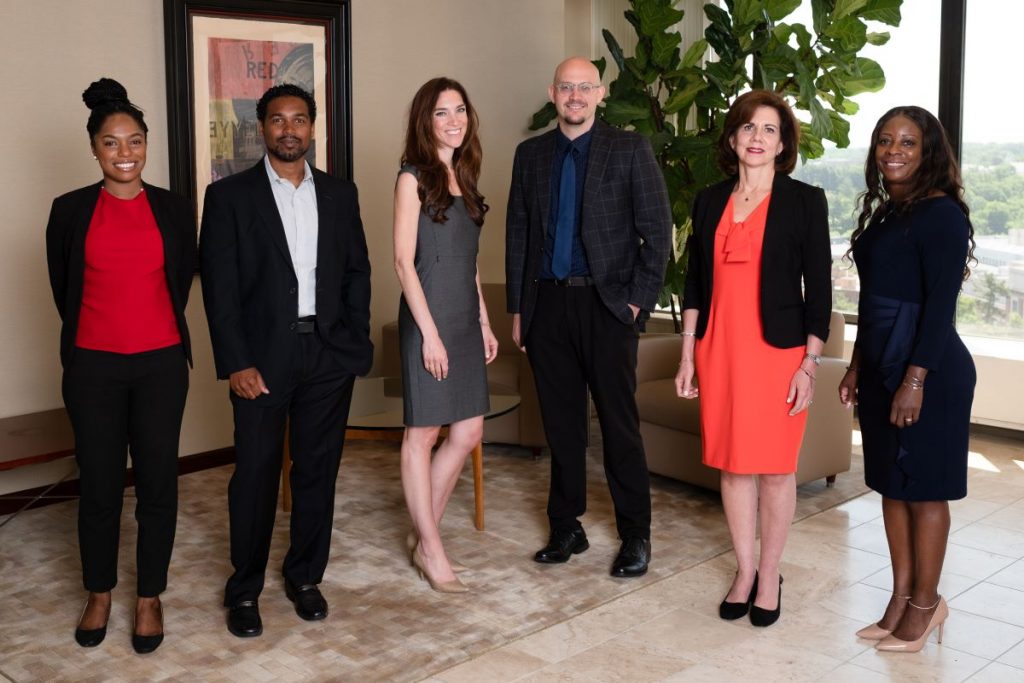 Diversity Committee from left: Amanda Fenelon, Eon Nichols, Kristen Motel, Maximillian Mahalek, Lucia Chiocchio, and Tanika Natal.
Throughout its 50-year history, Cuddy & Feder LLP has made tremendous strides in maintaining a diverse workforce of attorneys and staff. We are focused on the retention and promotion of our talented individuals and are committed to providing them with the tools for success.
Cuddy & Feder recognizes that promoting diversity requires both proactive attention and focus. The Firm's Diversity Committee is comprised of both attorneys and staff and works to develop and implement practices to promote diversity and inclusion across the firm. The Committee also coordinates diversity focused programs and events as well as community outreach opportunities.
At Cuddy & Feder, diversity is both a moral imperative and a competitive advantage. Drawing on diverse perspectives, we can uncover innovative legal solutions for your most challenging business and individual problems and opportunities. The firm embraces and strives for diversity not only in terms of our people, but also in the unique ideas and perspectives each person brings to the firm. The strength and success of our law firm requires the inclusion of people with different insights and experiences, which results in more creative and innovative solutions to your legal and business challenges. Even as we do our best to promote diversity of thought at Cuddy & Feder, it all comes together for a single goal: providing our clients with the highest level of service and innovative legal thinking.
Our attorneys and staff have long-standing ties with numerous organizations that enhance the quality of life, cultural and economic character of our region. Among them are White Plains Hospital, Westchester County Association, Business Council of Westchester, African American Men of Westchester, the Carver Center, Legal Services of the Hudson Valley, Burke Rehabilitation Hospital, Foundation First for Abilities First NY and Mercy College.
Cuddy & Feder is dedicated to fostering an environment that embraces differences, promotes equality, and engenders mutual respect, thereby creating a culture of inclusion where everyone has the opportunity to excel. We are committed to recruiting, retaining, and promoting diverse attorneys and staff, thereby resulting in a diversity of perspectives that benefits the firm, our clients, and the communities in which we practice.
Cannabis Law
,
Corporate
,
Energy + Environmental
,
Finance
,
Land Use, Zoning + Development
,
Litigation
,
Non-Profit Organizations
,
Real Estate
,
Telecommunications
,
Trusts, Estates + Elder Law
The following materials, and all other materials on this website, are intended for informational purposes only, are not to be construed as either legal advice or as advertising by Cuddy & Feder LLP or any of its attorneys, and do not create an attorney-client relationship between you and Cuddy & Feder LLP. Please seek the advice of an attorney before relying on any information contained herein.