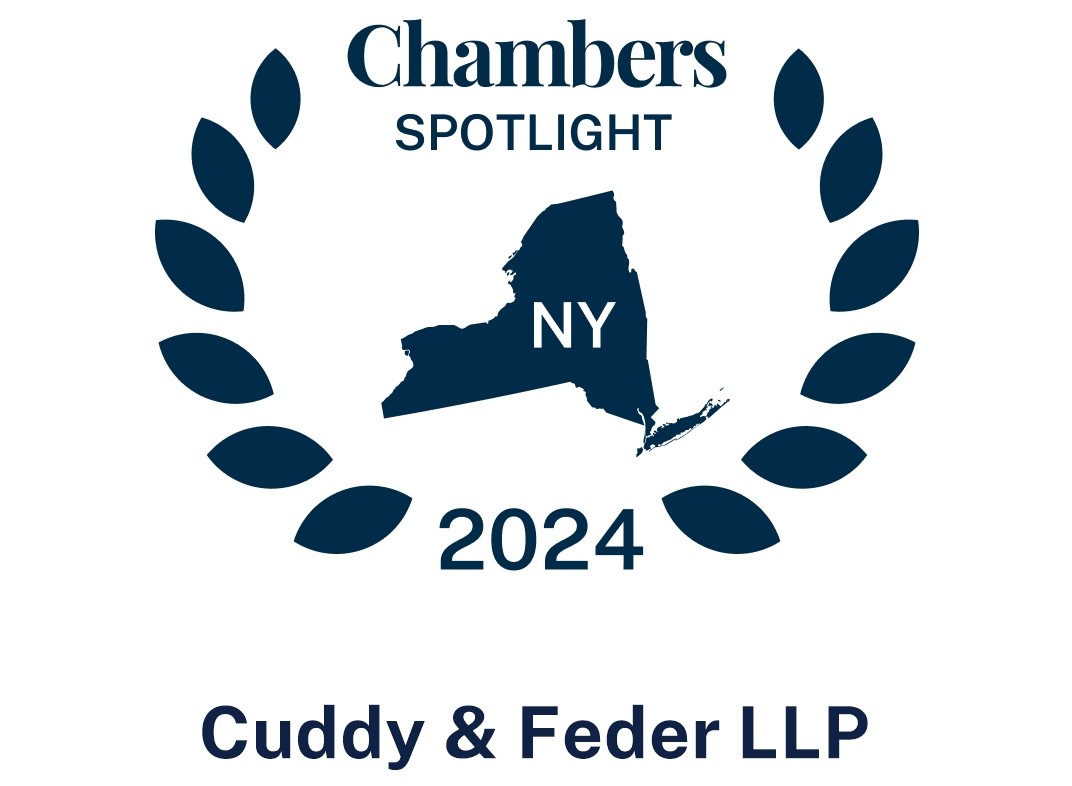 White Plains, NY – November 13, 2023 – Cuddy & Feder LLP is pleased to announce its ranking in the inaugural Chambers USA Regional Spotlight 2024: New York, solidifying its position as a distinguished leader in the realm of real estate law. The prestigious Chambers Regional Spotlight has recognized Cuddy & Feder as the only mid-sized law firm in Westchester County to achieve this distinction, underscoring our dedication to providing unparalleled legal services to our clients.
The Chambers Regional Spotlight serves as a platform for legal practitioners and clients to identify outstanding law firms that offer specialized services in specific regions. This accolade underscores Cuddy & Feder's comprehensive knowledge, experience, and excellence in real estate law within the New York region.
"This recognition in the Chambers Regional Spotlight is a testament to the hard work and commitment of our exceptional legal team at Cuddy & Feder LLP," said Anthony B. Gioffre III, Managing Partner of the firm. "We are honored to be the only mid-sized law firm in Westchester to receive this distinction in the real estate law category. It underscores our dedication to delivering high-quality legal services and our proficiency in the field."
At Cuddy & Feder, our focus has always been on providing legal solutions that meet the unique needs of our clients. With our commitment to excellence and our deep understanding of the law, we continue to earn the trust of our clients in Westchester and beyond.
Chambers identified the leading small to medium-sized law firms offering a credible alternative to Big Law. The ranked firms were selected based on independent in-depth market analysis, coupled with an assessment of their experience, expertise and caliber of talent. They awarded a Chambers Regional Spotlight ranking to only 105 law firms across 8 ranking tables in 6 regions within New York including New York City, Long Island, Westchester, Albany, Syracuse and Buffalo.
About Cuddy & Feder LLP
Cuddy & Feder LLP proudly serves clients in the areas of real estate law; land use, zoning & development; litigation; trusts, estates & elder law; public and private finance (including tax-exempt and taxable bond financing); corporate law; telecommunications; energy & environmental law; cannabis law; and non-profit organizations. Over 50 years, we have established ourselves as the leading law firm serving a vast region that includes Westchester, New York City, Connecticut and the Hudson River Valley. Our foundation is local, and we enjoy enduring relationships with leaders, institutions and decision-makers in the communities we serve.
Cannabis Law
,
Corporate
,
Energy + Environmental
,
Finance
,
Land Use, Zoning + Development
,
Litigation
,
Non-Profit Organizations
,
Real Estate
,
Telecommunications
,
Trusts, Estates + Elder Law
The following materials, and all other materials on this website, are intended for informational purposes only, are not to be construed as either legal advice or as advertising by Cuddy & Feder LLP or any of its attorneys, and do not create an attorney-client relationship between you and Cuddy & Feder LLP. Please seek the advice of an attorney before relying on any information contained herein.