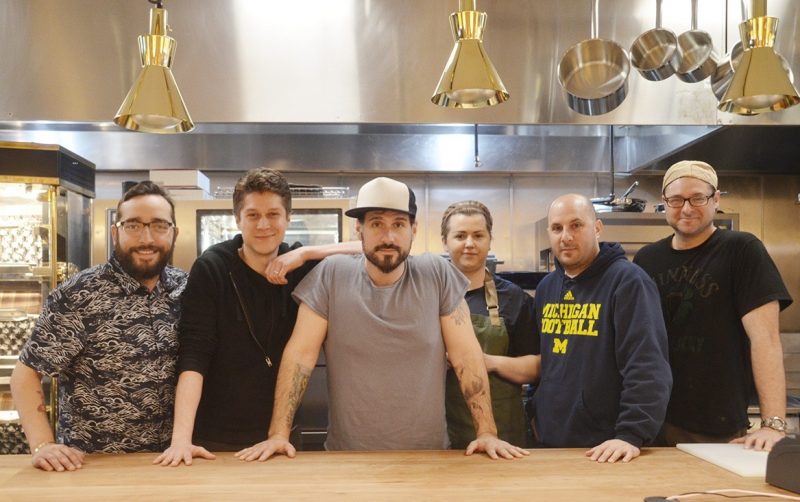 The Westchester County restaurant scene is booming, and Port Chester is one village to keep an eye on! There is a renaissance happening not only with residential and retail complexes, but also with new and exciting restaurants.
Chef David DiBari, owner of The Cookery, The Parlor, The Rare Bit and DoughNation (a mobile pizza oven) in Dobbs Ferry, is bringing his culinary genius to Port Chester with his new restaurant, Eugene's Diner & Bar. The new restaurant at 112 North Main Street has undergone a major renovation to turn the space into a chic and modern American diner. The look and feel of Eugene's Diner & Bar sends you right back to the 1970s. The diner features wood paneled walls, floral wallpaper, yellow booths, pink flamingos and colorful shag carpeting to complete its retro look. A common phrase to describe their offerings is "burgers, shakes, pancakes and caviar." You can choose from a dry aged rotisserie prime rib roast or just stop in for a class burger and fries – there is truly something for everyone.
Chef DiBari has had a passion for restaurants and food ever since he was a teenage boy working various positions in the food industry. He likes to push boundaries and create an immersive experience for the diner by pairing delicious food with ambiance that you will not forget. Chef DiBari is a graduate of the Culinary Institute of America and earned sought after positions at Windows on the World, Patroon, David Bouley's Danube, Mario Batali's Babbo, Zuppa and Eastchester Fish Gourmet. The new 114-seat restaurant opened April 5.
Eugene's Diner and Bar
112 North Main Street
Port Chester, New York 10573
Corporate
,
Energy + Environmental
,
Finance
,
Land Use, Zoning + Development
,
Litigation
,
Non-Profit Organizations
,
Real Estate
,
Telecommunications
,
Trusts, Estates + Elder Law
The following materials, and all other materials on this website, are intended for informational purposes only, are not to be construed as either legal advice or as advertising by Cuddy & Feder LLP or any of its attorneys, and do not create an attorney-client relationship between you and Cuddy & Feder LLP. Please seek the advice of an attorney before relying on any information contained herein.