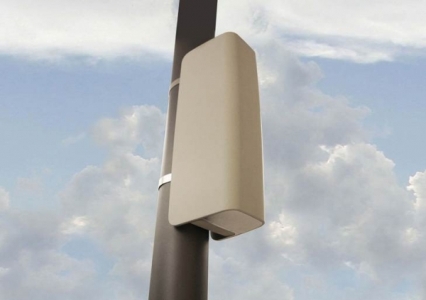 Over the past 30 years, wireless communications have revolutionized the way Americans live, work and play. The ability to reliably connect with one another in a mobile environment has proven essential to the public's health, safety, welfare and rapidly evolving Internet of Things (IoT) economy. But wireless networks and their current architecture are simply not equipped to support the speed and throughput needed to provide reliable wireless services. Gartner forecasts that 25 billion connected devices will be in use by 2020 while some experts predict we'll need 1,000 times more bandwidth within the next 10 years alone.
Who among us hasn't experienced slow network connections or weak signals in an office building between 9-5 when thousands of users may be connected and utilizing data or during a sporting event when thousands of fans are simultaneously trying to post selfies? And what happens when its not just screens that are connected but things? It begs the question – how do we enhance service and capacity to accommodate wireless demand in office buildings, residences, campuses, stadiums, roadways/subways or in urban settings, not to mention the coming Internet of Everything (IoE)?
The answer may lie with "small cell" technology. Infonetics Research forecasts the global small cell market to grow to nearly $2.5 billion by 2018 and, indeed, we're witnessing unprecedented growth in the advancement and deployment of new technologies with an eye towards IoT and smart cities. Verizon's ThingSpace and AT&T Foundry have unveiled their visions for an IoT future. Another prominent movement in the space is Google's Sidewalk Labs, which recently took over LinkNYC – an effort to bring free public Wi-Fi to NYC via citywide Wi-Fi kiosks. Undoubtedly, commercial small cell deployments figure heavily into the mix. So why then are some small cell deployments – the very same ones that would help deliver the "smart city" – encountering municipal regulatory resistance?
Part of the problem is confusion and the need for municipal education. There are no clear regulatory standards that define what "small cells" actually are. Furthermore, there's a significant lack of understanding regarding the technology itself, the need for small cell deployment, in general, and – if the hurdle of understanding "need" is cleared – how small cell deployments should be approached.
So What Are "Small Cells" – Anything Smaller Than a Tower?
Let's start by underscoring what "small cells" are not for municipal purposes. Small cells are not "towers", "femtocells," "Wi-Fi routers," or even some "rooftop sites" where carriers may just be installing less than the full complement of a carrier's FCC spectrum typically seen in a "macrosite." Small cells may be, but are not technically synonymous with "Distributed Antenna Systems" ("DAS") either. Indeed, while the term "DAS" in particular is commonly used interchangeably with "small cells" they in fact differ widely when it comes to actual infrastructure applications.
DAS, whether indoor or outdoor, is more typically a whole system with numerous antennas and RF/Optical equipment integrated to cover larger geographic areas outdoors or in large buildings over 500,000 square feet in size. More technically focused, a small cell might better be referred to as a "picocell" or "microcell" where the service can be focused in a relatively small geographic area indoors or outdoors through one piece of equipment no bigger than a pizza box.
Notably, over the past decade, the outdoor DAS industry has matured and gone through much of the same regulatory cycle at a municipal level that macrosites have experienced for the past 30 years. Yet, we're still in a phase of municipal education and development of best practices to speed DAS deployments.
We submit that "small cells" in 4G LTE deployments are "indoor or outdoor units where the radio frequency equipment and transmitting elements are consolidated into one piece of hardware that can be affixed to a building, light pole or other structure with a power and fiber or microwave fronthaul/backhaul feed." It remains to be seen what a "small cell" will be for 5G deployments anticipated by year 2020.
If able to deploy DAS and small cells quickly and cost effectively, mobile operators can supply service with surgical precision, ease network congestion, utilize limited spectral resources more efficiently, increase capacity, and ultimately, provide a better customer experience. Notably, over the past decade, the outdoor DAS industry has matured and gone through much of the same regulatory cycle at a municipal level that macrosites have experienced for the past 30 years. Yet, we're still in a phase of municipal education and development of best practices to speed DAS deployments.
While we in the industry typically know the difference between DAS and small cells, municipal officials simply do not and, as a result, will continue to lump all wireless infrastructure together for regulatory purposes, which is absolutely the wrong approach. So are we destined for the same long winding regulatory road for small cell deployments?
Municipal Regulatory Climate for Small Cells
State enabling legislation for zoning or use of rights-of-way often falls under the auspices of local municipalities for local regulation and implementation. As such, small cell deployments like macrosites are subject to widely varying regulatory regimes.
In the outdoor arena, many municipalities will treat a small cell similar to a full rooftop macrosite, or even a new tower, and most zoning code enforcement officers will simply resort to what are likely outdated regulations passed in the wake of the 1996 Telecommunications Act.
Clearly, small cells, which are physically small and located at low elevations without any visual impact, don't deserve the same level of regulatory scrutiny as towers. At its core, a small cell installation functions much in the same way as an outdoor Wi-Fi router, which uses unlicensed spectrum, and should therefore not be subject to costly, outdated regulatory schemes. As noted in Crown Castle NG East v. Town of Greenburgh, N.Y., 2013, "for even DAS in the ROW, the small and "de minimus" visual impact should not, and cannot, place small scale technology on the same regulatory level as a macro site."
What is urgently needed is for municipal regulatory authorities and policy makers to reconsider how DAS and small cell deployments are authorized and regulated in order to realize economic development and social benefits for local industry and citizenry. Zoning and the past 30 years of macrosite deployments simply should not provide the foundation for the legal, planning and policy review of DAS and small cell deployments.
Navigating The "Process"
At Cuddy & Feder, we're working on the front lines with mobile operators and their infrastructure partners to navigate many of the uncharted regulatory waters of local-level DAS and small cell deployments and to demystify the landscape for municipalities in an effort to avoid unnecessary, lengthy and costly review processes that are burdensome for all parties.
By educating municipal officials using recent developments in federal policy that seek to advance wireless technology rapidly, we've shifted many projects from potentially "bad" outcomes to "great" ones for our clients and municipal stakeholders.
Advocacy
It is vital for our industry to continue to draw attention to these issues and advance, federal, state, and municipal laws to keep pace with technological change. To this end, my colleague, Chris Fisher, Chair of our Telecommunications Practice Group, was recently appointed Chair of the Committee within PCIA's Innovation and Technology Council dedicated to educating municipalities and developing a streamlined process or "best practices" model whereby industry and local authorities can better interpret and apply recent changes to the regulatory landscape and work collaboratively to remove unnecessary obstacles to small cell deployment.
If we solve some of the regulatory mystery that exists today and stimulate deployment opportunities locally, we set the stage to provide consumers and local economies what they want and need and open the door for 5G and IoT which will depend even more on smaller cell technologies and ubiquitous services. And if we're truly to deliver on the promise of "smart cities," there's still much work to be done to advance small cells.
The following materials, and all other materials on this website, are intended for informational purposes only, are not to be construed as either legal advice or as advertising by Cuddy & Feder LLP or any of its attorneys, and do not create an attorney-client relationship between you and Cuddy & Feder LLP. Please seek the advice of an attorney before relying on any information contained herein.