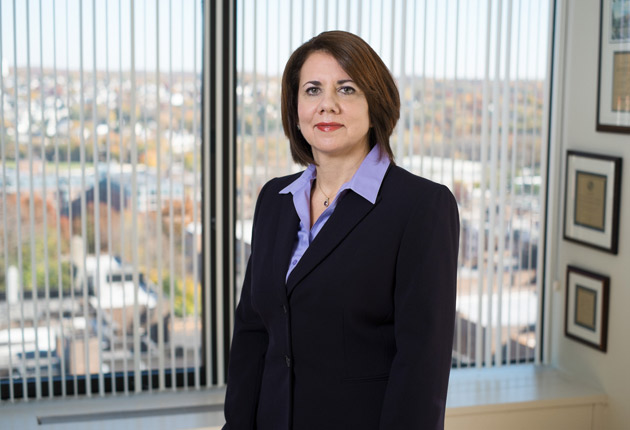 Lucia Chiocchio
lchiocchio@cuddyfeder.com
914 761 1300
"The secret of joy in work is contained in one word – excellence. To know how to do something well is to enjoy it."
–Pearl S. Buck
Lucia is a Partner at the firm, Chair of the firm's Land Use, Zoning & Development Practice group and Vice-Chair of the firm's Telecommunications Practice group. She concentrates her practice in zoning and energy law, with an emphasis on telecommunications. Her background in environmental engineering allows her to integrate technical experience into her representation of landowners, developers and the telecommunications industry.
She uses her multi-disciplinary experience and extensive knowledge to manage consultants and formulate approaches to successfully advance projects through complex and sometimes controversial permitting and approval processes. For a major wireless carrier company, Lucia successfully secured state agency permits and local municipal approvals for a number of various controversial infrastructure projects. As part of a project team for a national drug store retail chain, she was instrumental in obtaining entitlements to assist the client in meeting its development goals for several projects. Lucia's representation of residential clients has allowed them to move forward with their plans and realize a return on their real estate investments.
Lucia has a proven record of developing strategies to achieve client goals and avert litigation. When litigation is inevitable, her strategies result in a sound record. She regularly appears before municipal and state boards, commissions and agencies. She frequently lectures at Continuing Legal Education Seminars on land use and zoning issues.
Prior to becoming an attorney, Lucia had a successful engineering career where she served as project management for several utility clients. The various projects she administered included energy efficiency rebates programs, water / wastewater treatment facility operations and management and telecommunications design.
Education
Pace University School of Law, J.D., Environmental Certificate; 2001
Manhattan College, M.S. (Environmental Engineering); 1997
Admissions/Courts
New York
Connecticut
U.S. District Court for the Southern District of New York
Awards + Recognitions
Westfair Communications Women Innovators Award, 2023
SuperLawyers® New York Metro Edition, 2023
2009 Above the Bar Award Recipient – Most Promising New Attorney
Professional Associations
New York State Wireless Association, Vice President, 2018-2021; Secretary, 2021-present
Westchester Women's Bar Association, State Director, Past President, and Co-Chair and Founder of the Environmental & Land Use Committee
Women's Wireless Leadership Forum, New York Representative
New York Bar Association
Westchester / Putnam Chapter of the NYSSPE, Sponsor
White Plains Bar Association, Immediate Past President
Presentations + Publications
"New York Real Estate Roundtable with Robert Weisz of RPW Group"
Young Jewish Professionals
Moderator
April 19, 2023
"IMPACT Discussion"
Women's Wireless Leadership Forum (WWLF)
Lecturer
May 8, 2019
"ABC's of ADA"
Westchester Women's Bar Association
Lecturer
October 12, 2017
"It's Time To Change The Law Firm Business Model"
Law360, January 17, 2017
"New York State's Energy Marketplace Heading Into 2016 Q4"
Law360, October 7, 2016
"Avoiding Pitfalls in the Acquisition and Development of Real Estate"
May 18, 2016
Lecturer
"Harness the Experience of Attorneys Returning to the Legal Profession"
New York Law Journal, Aug. 17, 2015
"800-Year-Old Principle Is Still Relevant to Women"
New York Law Journal, May 1, 2015
"Supreme Court Upholds Antenna-Siting Shot Clock"
AGL (Above Ground Level)
Vol. 10, No. 8, September 2013
Co-Author
"Recent Developments in Wireless Regulations and Policy"
February 2013
Lecturer
"Keys to Meeting Cell Site Zoning Requirements "
AGL Upper MidWest Regional Conference (Detroit, MI), September 2012
Lecturer
"Sustainable Development and Green Buildings: Challenges Posed by an Evolving Regulatory Framework"
May 2012
Lecturer
"What's Your WirelessPlan? Federal Law, Local Review and Wireless Facilities"
NYSBA Municipal Lawyer, Spring 2012, Vol. 26, No. 2
Co-Author
"Green Construction Projects: More Than Just A Trend"
March 2010
Lecturer
"SEQRA: A Primer on the Procedural Issues Frequently Raised in Challenges to Projects"
July 2008
Lecturer
"Is There A Future For Federal Court Land Use Litigation?"
January 2005, January 2006, October 2006
Lecturer
From the Blog
Selected Matters
Case Studies
Cuddy & Feder assisted a renowned senior care service provider secure approvals to construct two senior living facilities in Mount Vernon and helped them fulfill its mission to provide the highest level of elderly and long-term care for the senior community.
Cuddy & Feder helped MetroPCS and ExteNet Systems launch the largest DAS network in the U.S. at the time.
Community Service
White Plains Beautification Foundation, Counsel
Westchester Women's Bar Association Foundation, Member of the Board
Westchester Women's Bar Association, Community Outreach Committee
Extracurricular
Supporting Member of an off-Broadway theater group.
Enjoys live music and theater performances.