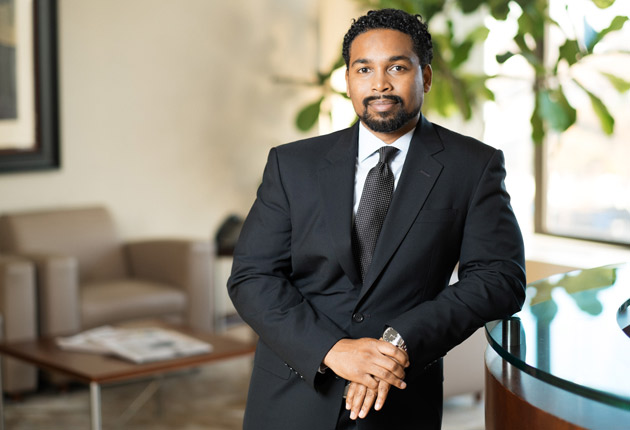 Eon is a Partner at the firm, serving as an esteemed member of the Management Committee and holds the position of Vice-Chair for multiple practice groups, including Real Estate, Corporate, Finance, Cannabis Law, and Non-Profit. With an exceptional focus on leveraging opportunities and achieving outstanding outcomes, Eon's practice encompasses the full spectrum of real estate transactions, seamlessly bridging both commercial and residential sectors. Additionally, Eon's expertise extends to real estate financing, where he navigates complex commercial lending transactions and leasing agreements.
Moreover, Eon possesses a unique proficiency in public finance transactions, most notably in Industrial Development Agency (IDA) bond financing and straight lease transactions. In this capacity, he represents developers and property owners, enabling them to effortlessly secure PILOTs (real property tax abatements) alongside coveted sales tax and mortgage tax exemptions. This remarkable aptitude for IDA transactions has solidified Eon's position as a true industry leader.
Eon's unwavering commitment to the betterment of society is conveyed through his exceptional representation of numerous non-profit organizations. By expertly navigating real estate transactions, real estate financing, and other corporate matters, he empowers these invaluable organizations to achieve their missions and make a lasting impact. Furthermore, Eon consistently delivers unparalleled results for companies, organizations, and businesses across a wide array of corporate transactions. From facilitating seamless formations and robust governance structures to negotiating employment agreements and fostering prosperous joint ventures. Eon's proficiency in diverse corporate matters ensures that his clients are well-equipped for continued success.
Education
Fordham University School of Law, J.D.; 2003
State University of New York at Binghamton, B.A.; 2000
Admissions/Courts
Awards + Recognitions
The Best Lawyers in America®, 2024
Recipient of the Boy Scouts of America Diversity Good Scout Award, 2019
SuperLawyers® New York Metro Edition, 2013 -2023
Recipient of the Westchester County Business Journal's Above the Bar Leading Attorney Under 40 Award; 2016
Recipient of the Rising Star: 40 Under 40 Award honoring young professionals in Westchester County demonstrating excellence in their profession; 2013
Recipient of the Westchester County Bar Association's New Lawyers Leadership Award honoring new lawyers (i.e., lawyers who have been practicing for ten years or less) who demonstrate excellent leadership in both their legal careers and local communities; 2013
Professional Associations
New York State Bar Association
Westchester County Bar Association
Hudson Gateway Association of Realtors, Inc., Commercial & Investment Division
Presentations + Publications
"The Conversion of Commercial Properties: What are the Creative Options?"
WestFair Communications
Moderator
June 8, 2023
"Economic Development Begins with Pro-Housing Policy"
Westchester County Association
Speaker
May 18, 2021
"The Importance of Non-Disclosure Agreements in Real Estate Transactions"
Winter/Spring 2016 issue of Real Estate Finance Journal, October and November 2016 issue of Westchester Lawyer, The Westchester County Bar Association Monthly Magazine Co-author
Speaker for New York City Bar Center for CLE Bridge-the-Gap Program on "Basics of Commercial Real Estate Law"
September 28, 2016
Speaker for New York City Bar Center for CLE on "Commercial Real Estate Law: The Basics & Beyond"
May 2, 2016
Speaker for New York City Bar Center for CLE Bridge-the-Gap Program on "Basics of Commercial Real Estate Law"
October 2, 2015
Speaker for New York City Bar Center for CLE Bridge-the-Gap Program on "Basics of Commercial Real Estate Law"
October 8, 2014
Speaker for New York City Bar Center for CLE Bridge-the-Gap Program on "Basics of Residential Real Estate Law"
November 28, 2012
"Introduction to the Basic Concepts and Steps Involved in a Straight Lease Transaction, Part 1: The Industrial Development Agency's 'Straight Lease' Transaction"
Westchester County Bar Association Newsletter, May 2012
Co-author
"Introduction to the Basic Concepts and Steps Involved in a Straight Lease Transaction, Part 2: Benefits Obtained From Undertaking and Closing on a Straight-Lease Transaction"
Westchester County Bar Association Newsletter, June 2012
Co-author
"Benefits Obtained From Undertaking and Closing on a Straight-Lease Transaction"
Co-Author
"Mahopac Volunteer Fire Department Uses Low-Cost Bond Financing to Build a New State-of-the-Art Firehouse"
published in the Westchester County Bar Association Newsletter, November 2008
Speaker for Pace University's School of Law Continuing Legal Education Program on "Trends in Residential Real Estate"
May 18, 2011
Speaker for Pace University's School of Law Continuing Legal Education Program on "Basics of Residential Real Estate"
December 4, 2011
From the Blog
Community Service
ArtsWestchester; Board Member
Burke Rehabilitation Hospital; Board Member
WP Housing Company, Inc.; Board Member
African American Men of Westchester, Inc.; Board Member
Board Member of the Business Council of Westchester