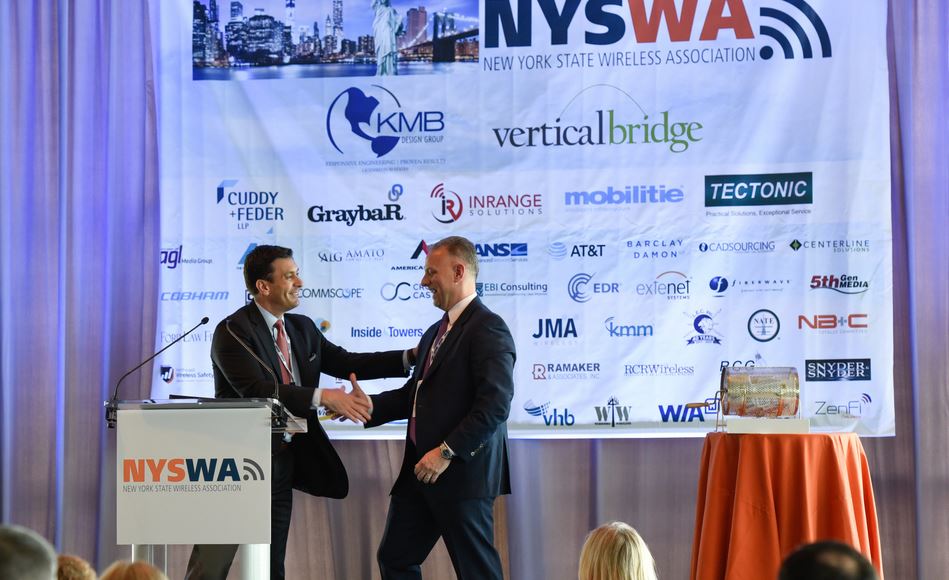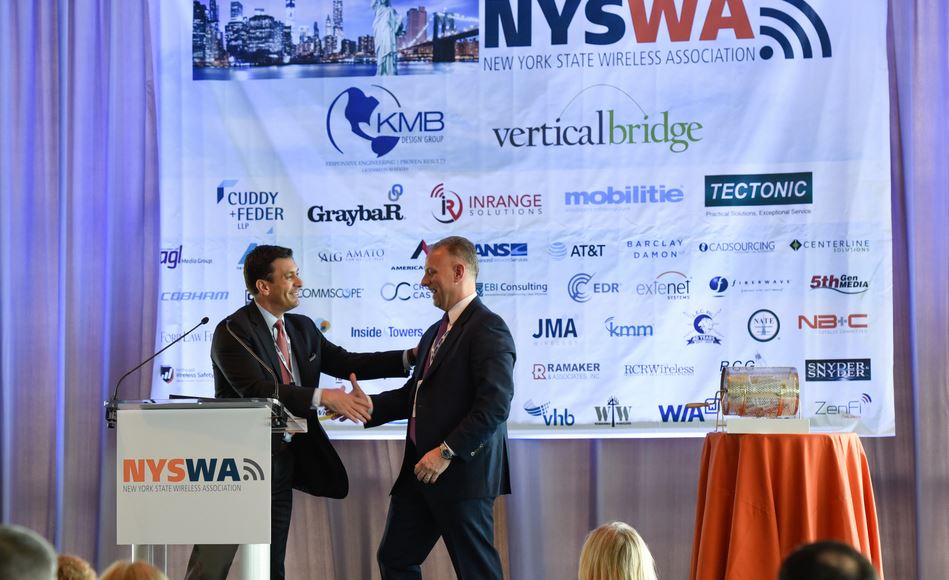 On Thursday, June 22nd the New York State Wireless Association ("NYSWA") held its biennial Wireless Forum and celebrated ten years as New York State's only wireless trade association. The Forum was held at Chelsea Piers in the heart of Manhattan and provided attendees with breathtaking views of the the Freedom Tower and the Statue of Liberty.
Attendance at this year's Wireless Forum was exceptional and created excellent networking opportunities for tower companies, carriers, and wireless professionals alike.  The Forum opened with remarks from Christopher Fisher, the President and Co-Founder of NYSWA and Cuddy & Feder's Managing Partner.  Morning keynote addresses included Alex Gellman CEO of Vertical Bridge and New York State Lieutenant Governor Kathy Hochul, who discussed the demand and need to expand wireless services for New Yorkers.
NYSWA's four educational panel sessions with speakers from the private sector as well as local and federal government were held throughout the day.  Panelists discussed emerging topics like access to the public right-of-way, smart cities, in-building solutions, and the future of telecommunications prompting lively discussions with industry leaders.
Cuddy & Feder LLP, a proud NYSWA member, sponsored the Forum's lunch program which included a poignant speech by the firm's partner, Lucia Chiocchio, and an insightful keynote address from Marissa Shorenstein, President of AT&T New York.
In the afternoon, Forum participants were honored to hear from Major General (ret) Kevin J. Kennedy, CEO of Warriors4Wireless who detailed the training opportunities his organization provides veterans for jobs in the wireless industry.  The closing session included remarks from Rachael Bender, Wireless and International Advisor to Federal Communications Commission ("FCC") Chairman Ajit V. Pai.  Ms. Bender discussed the FCC's commitment to eliminating regulatory barriers to wireless infrastructure deployment.
Mr. Fisher closed by thanking NYSWA's sponsors for supporting the Association's mission of educating and advocating for the wireless industry in New York State, after which attendees enjoyed a closing reception on the outdoor terrace along the Hudson River.
The following materials, and all other materials on this website, are intended for informational purposes only, are not to be construed as either legal advice or as advertising by Cuddy & Feder LLP or any of its attorneys, and do not create an attorney-client relationship between you and Cuddy & Feder LLP. Please seek the advice of an attorney before relying on any information contained herein.