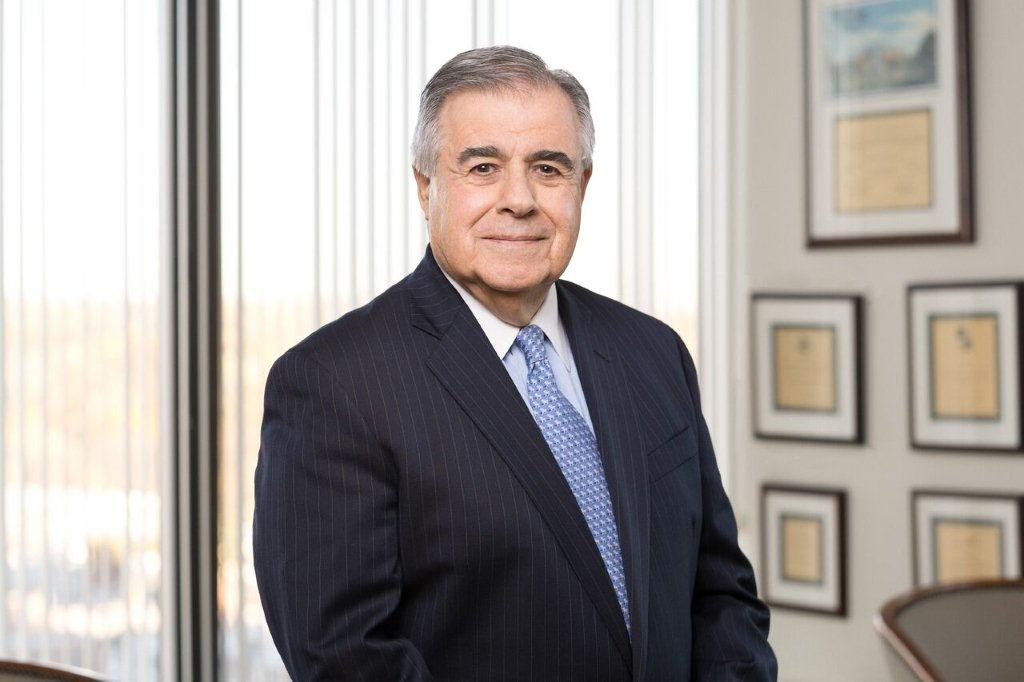 Cuddy & Feder LLP is pleased to announce that partner Joseph P. Carlucci will be awarded Mercy College's Annual Trustees' Award for Community Leadership. Mr. Carlucci will be presented with the Award at the 37th Annual Mercy College Trustees' Scholarship Dinner – An Evening to Pave the Way to Celebrate Students and Honorees – to be held at the Glen Island Harbor Club, Glen Island Park, in New Rochelle, NY on April 25 at 7 p.m.
Mr. Carlucci has been actively involved in bettering the Westchester community for decades, primarily in the area of education. In addition to serving as Vice-Chairman of the Mercy College Board of Trustees, he is also Director and Vice President of the Westchester Community College Foundation. He has been recognized for his many volunteer activities by the Andrus Children's Center and has also served on the Advisory Board of Student Assistance Services, a non-profit school-based substance abuse counseling agency, after serving on its Board of Directors for many years.
He has served on the boards and volunteered for numerous local organizations including: the Jacob Burns Film Center, for which he closed its bond financing that provided the funds for restoring its movie theatre building in Pleasantville; the Hundred Club of Westchester, Inc.; Westchester Partnership for Economic Development; March of Dimes Birth Defects Foundation, Westchester Division; and the Volunteer Center of United Way of Westchester County. He has also served as trustee for the Mill-Land Conservation Trust and the Westchester Arts Council.
"I am honored to be chosen for this award," said Joseph P. Carlucci. "And I salute all of this year's honorees, each of whom have made incredible contributions to the community."
Mr. Carlucci, a partner in the firm's Industrial Development Revenue Bond Practice, represents both large and small corporations dealing with a full range of corporate issues. He has prepared and negotiated a wide variety of business acquisition and sale contracts, partnership agreements, limited liability company operating agreements, employment contracts and other corporate documentation. Mr. Carlucci has also been active in lending transactions on behalf of borrowers and lenders, including real property secured and asset-based transactions. Historically, he has represented real estate entrepreneurs in acquisitions, sales, leasing, financing and obtaining approvals for real estate development projects.
About Cuddy & Feder LLP
Cuddy & Feder LLP proudly serves clients in the areas of real estate; public and private finance (including tax-exempt and taxable bond financing); litigation & appellate practice; land use, zoning & development; telecommunications; energy & environmental; non-profit organizations; and trusts, estates & elder law. Over 45 years, we have established ourselves as the leading law firm serving a vast region that includes Westchester, New York City, Connecticut and the Hudson River Valley. Our foundation is local, and we enjoy enduring relationships with leaders, institutions and decision-makers in the communities we serve.
Corporate
,
Energy + Environmental
,
Finance
,
Land Use, Zoning + Development
,
Litigation
,
Non-Profit Organizations
,
Real Estate
,
Telecommunications
,
Trusts, Estates + Elder Law
The following materials, and all other materials on this website, are intended for informational purposes only, are not to be construed as either legal advice or as advertising by Cuddy & Feder LLP or any of its attorneys, and do not create an attorney-client relationship between you and Cuddy & Feder LLP. Please seek the advice of an attorney before relying on any information contained herein.