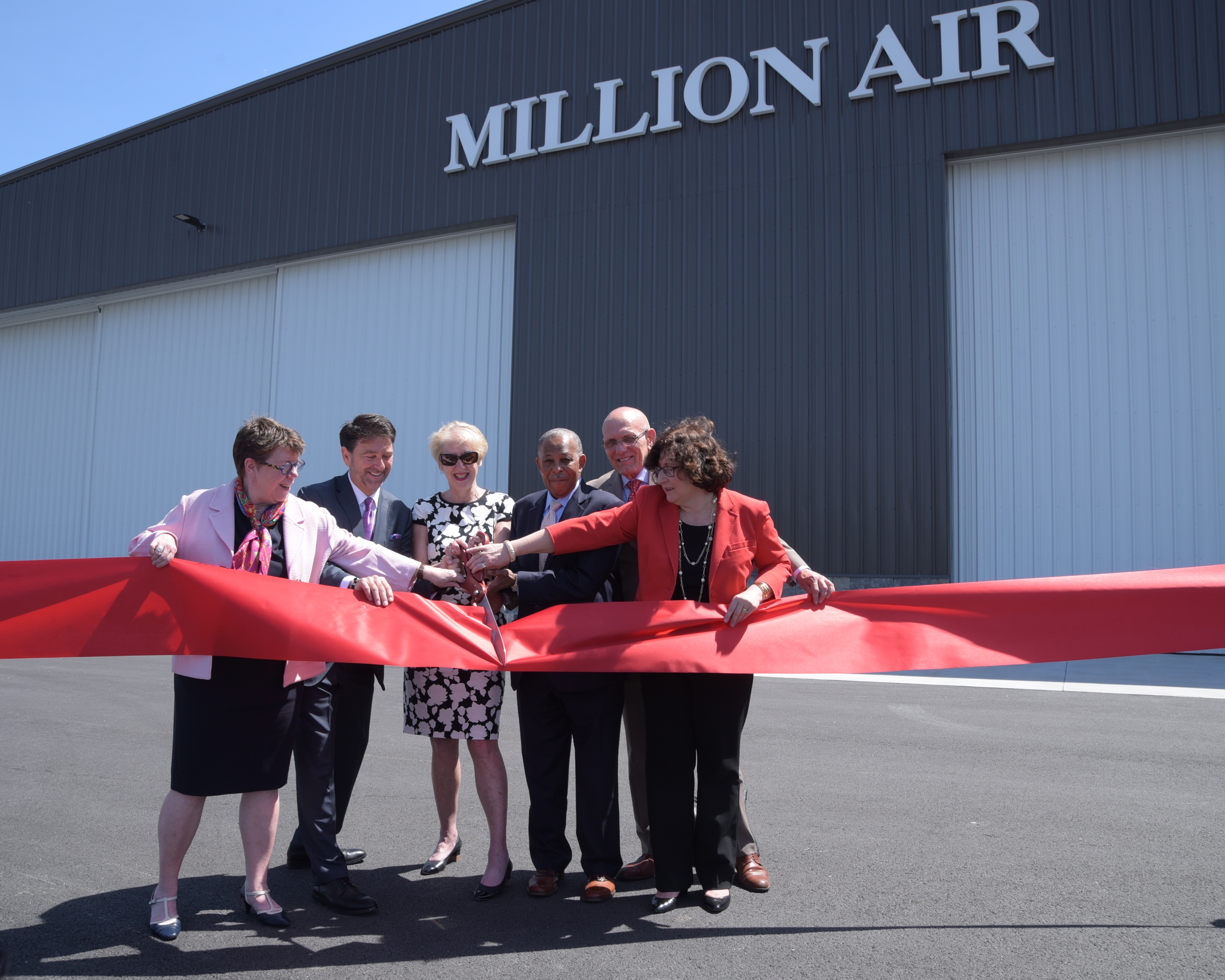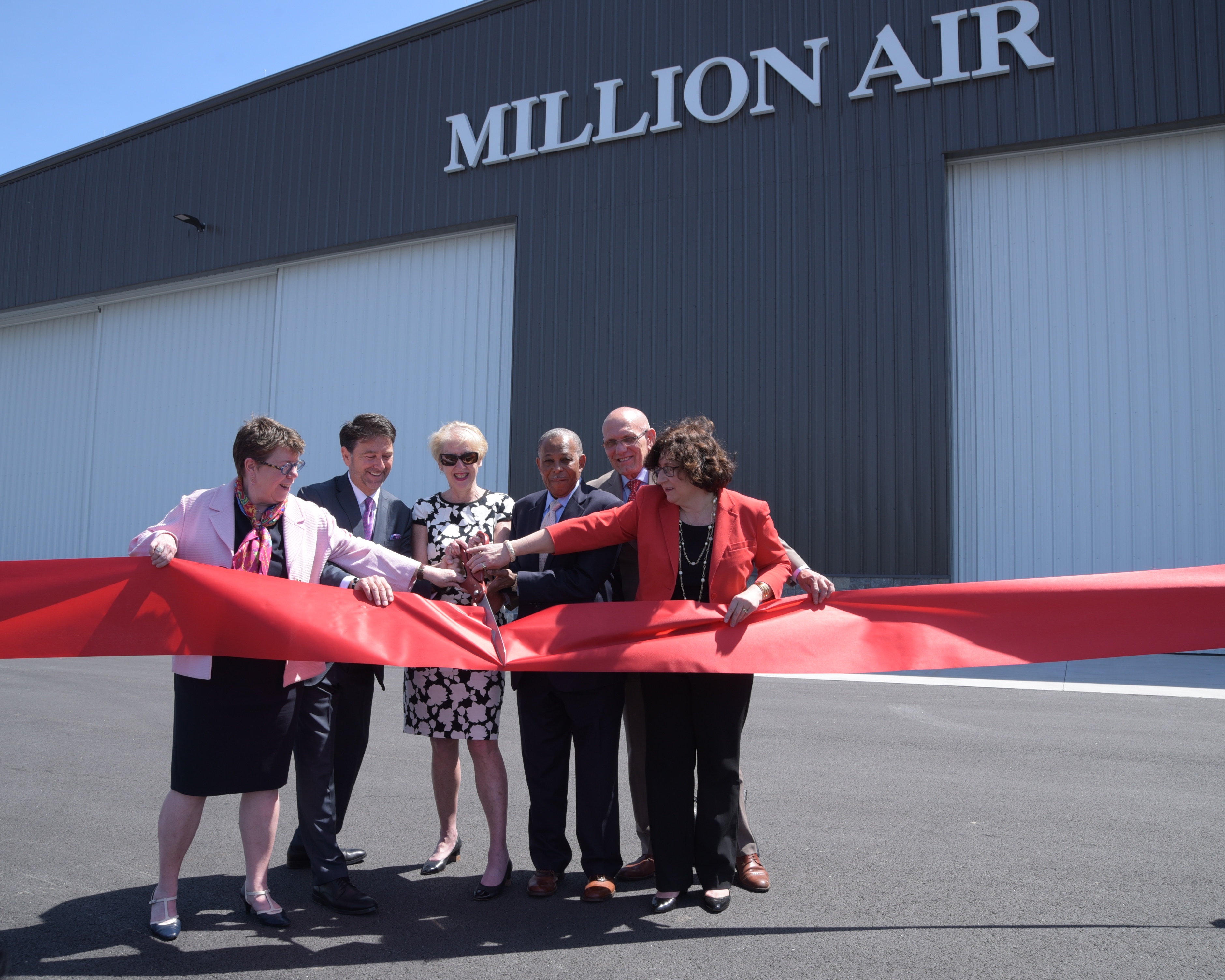 New state-of-the-art facility offers luxury travel experience
Cuddy & Feder LLP saw months of work come to fruition when executives from Million Air were joined by county and municipal officials to open the new state-of-the-art 52,000 square foot hangar – an $80 million expansion project – at Westchester County Airport on May 2.
The two-story hangar features 28-foot height doors capable of housing a Gulfstream 650, which is Gulfstream's largest business jet. Floors are heated with a high-tech radiant heat system that allows temperatures to be maintained for aircraft and pilots. The new hangar also includes eight customizable offices with storage space. With the completion of the new hangar, Million Air's complex now has 84,000 square feet of hangar space and 7.25 acres of ramp space.
Cuddy & Feder's Real Estate and Financial teams worked together in a two-step process to help Million Air secure the lease and financing for the hangar. The first was to buy out an existing lease from one of five space operators. On behalf of Million Air, Joe Carlucci and Eon Nichols and their real estate team negotiated a new lease with the county overcoming numerous hurdles. After almost three years, they helped Million Air to obtain a very favorable 30-year lease with the necessary permissions to build and charge rents.
Once the lease was in place, Million Air was able to obtain financing and Cuddy's finance group stepped in as Westchester counsel. As part of a team of lawyers, Cuddy & Feder helped Million Air to obtain more than $150 million in taxable and tax-exempt bond financing, through bonds issued simultaneously by the County of Westchester Industrial Development Agency and the State of Wisconsin Public Finance Authority.
"I operate a business in 33 different markets, but none are as complex as New York," said Roger Woolsey, CEO of Million Air. "In this regard, Cuddy & Feder was absolutely brilliant. They educated and navigated me through this completely new environment, and helped me accomplish something that I know other far more successful companies couldn't do."
"The complicated and unique nature of the FBO business created several hurdles along the way, but the determination and commitment of our client, the issuers and the team of legal advisors ultimately prevailed, resulting in the issuance of the bonds," said Mr. Nichols. "It's exciting to see many years of hard work come together, and we are thrilled with being part of the continued growth and development of Westchester County."
The two-story Adirondack-styled terminal is designed with a resort-style ambiance and will include elegant seating areas, wood and rock features, stone framed dual fireplaces and wood beam ceilings. The new terminal will also feature conference rooms, a pilot lounge with sleep rooms, a barista staffed grand coffee bar, a climate controlled indoor valet area and additional parking.
About Cuddy & Feder LLP
Cuddy & Feder LLP proudly serves clients in the areas of real estate; public and private finance (including tax-exempt and taxable bond financing); litigation & appellate practice; land use, zoning & development; telecommunications; energy & environmental; non-profit organizations; and trusts, estates & elder law. Over 45 years, we have established ourselves as the leading law firm serving a vast region that includes Westchester, New York City, Connecticut and the Hudson River Valley. Our foundation is local, and we enjoy enduring relationships with leaders, institutions and decision-makers in the communities we serve.
The following materials, and all other materials on this website, are intended for informational purposes only, are not to be construed as either legal advice or as advertising by Cuddy & Feder LLP or any of its attorneys, and do not create an attorney-client relationship between you and Cuddy & Feder LLP. Please seek the advice of an attorney before relying on any information contained herein.