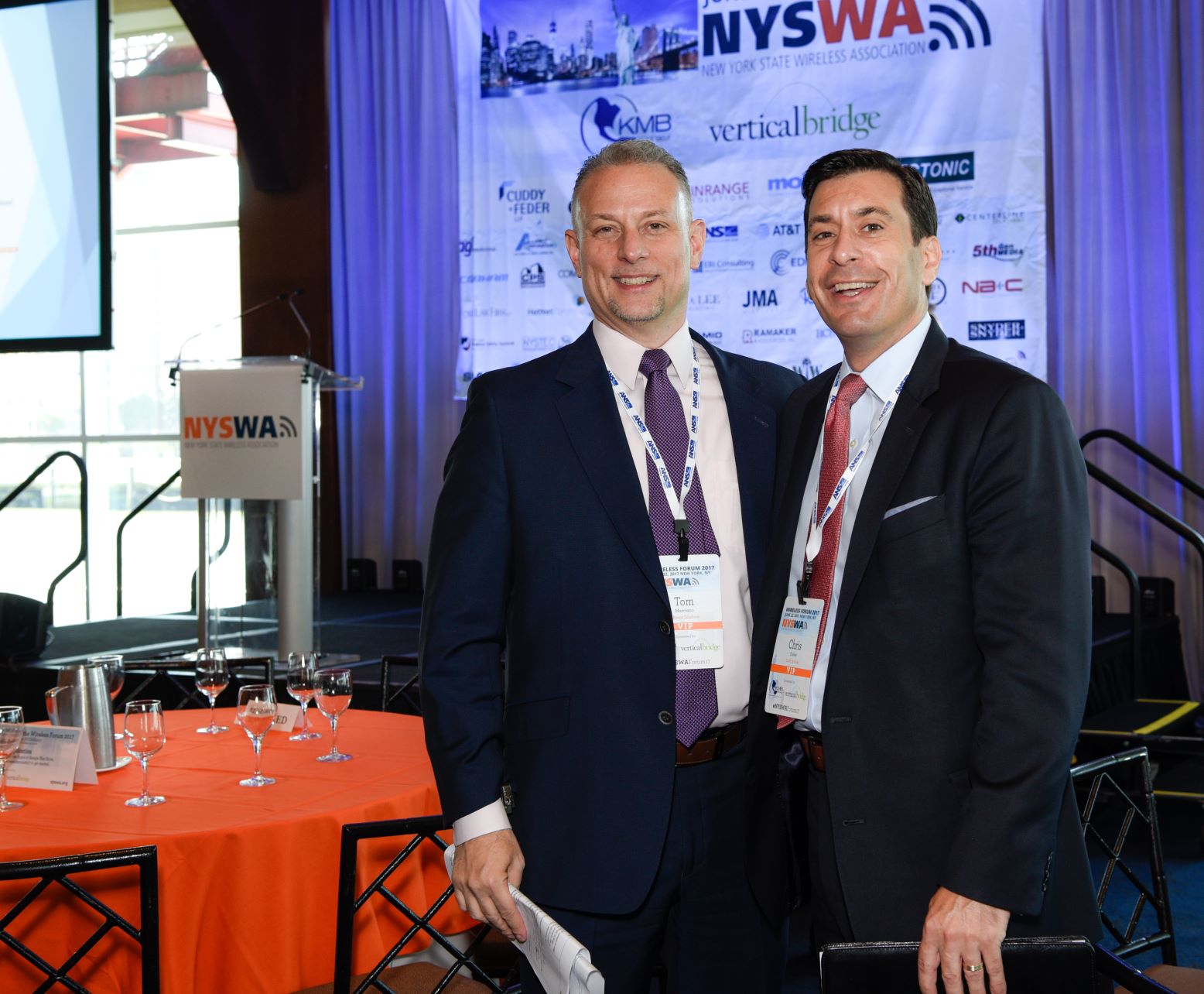 Cuddy & Feder Partner Lucia Chiocchio to Become Vice President
Cuddy & Feder LLP announced that Managing Partner Christopher B. Fisher will be stepping down as President of the New York State Wireless Association (NYSWA) after six years of service. Cuddy & Feder Partner Lucia Chiocchio will assume the role of Vice President, effective December 13, 2018. Mr. Fisher is a founding board member of NYSWA and has been an executive officer since its inception in 2006. He will continue to remain active as NYSWA's appointed State & Local Government Affairs Advisor. He is succeeded by Tom Marciano, Chief Revenue Officer at inRange Solutions.
Under Mr. Fisher's leadership, NYSWA has been well positioned for continued growth as the leading wireless trade association in New York. Mr. Fisher worked tirelessly to advance advocacy for NYSWA's members including the establishment of an annual Wireless Advocacy Day in Albany with state elected officials. Throughout his tenure, Mr. Fisher spoke before numerous statewide business associations as part of the Associations' education initiatives. His voice on technical innovations in wireless, 5G, the need for urban network densification with small cells, and efforts at regulatory reform in New York have consistently positioned NYSWA's members for success. In his new role, Mr. Fisher will continue NYSWA's advocacy efforts with federal, state and municipal officials helping to accelerate wireless growth across New York.
Among his accomplishments as President, NYSWA established its biennial Wireless Forum held in NYC, the preeminent wireless event in the region. He championed NYSWA's charitable efforts with Warriors4Wireless to support workforce training of military veterans for high paying jobs in the wireless sector. Mr. Fisher deepened NYSWA's relationship with the Wireless Infrastructure Association (WIA) and other national trade associations with NYSWA becoming the first state wireless association in the country to enter into a membership/partnering agreement with WIA. Under Mr. Fisher's leadership, NYSWA's Board became more diverse with new relationships across the wireless ecosystem, and he galvanized the organization growing it into what it is today.
"I'm thrilled at NYSWA's success which is directly attributable to the dedication and commitment of time, energy and resources of everyone involved including past and current board members and our strategic partners. I want to thank my partners at Cuddy & Feder who supported my personal commitment to leading NYSWA," said Mr. Fisher. "Moving forward, it's an incredible time in wireless with 5G and new innovations that will spur economic growth and ensure the well-being of our communities. I'm confident NYSWA is in excellent hands with Tom whose business acumen and talents are substantial and I'm genuinely excited to see where he takes our organization next. He has my full support and I know that his passion and drive for the success of our industry is exactly what NYSWA needs to continue its growth."
About Cuddy & Feder LLP
Cuddy & Feder LLP proudly serves clients in the areas of real estate; public and private finance (including tax-exempt and taxable bond financing); litigation & appellate practice; land use, zoning & development; telecommunications; energy & environmental; non-profit organizations; and trusts, estates & elder law. Over 45 years, we have established ourselves as the leading law firm serving a vast region that includes Westchester, New York City, Connecticut and the Hudson River Valley. Our foundation is local, and we enjoy enduring relationships with leaders, institutions and decision-makers in the communities we serve.
The following materials, and all other materials on this website, are intended for informational purposes only, are not to be construed as either legal advice or as advertising by Cuddy & Feder LLP or any of its attorneys, and do not create an attorney-client relationship between you and Cuddy & Feder LLP. Please seek the advice of an attorney before relying on any information contained herein.