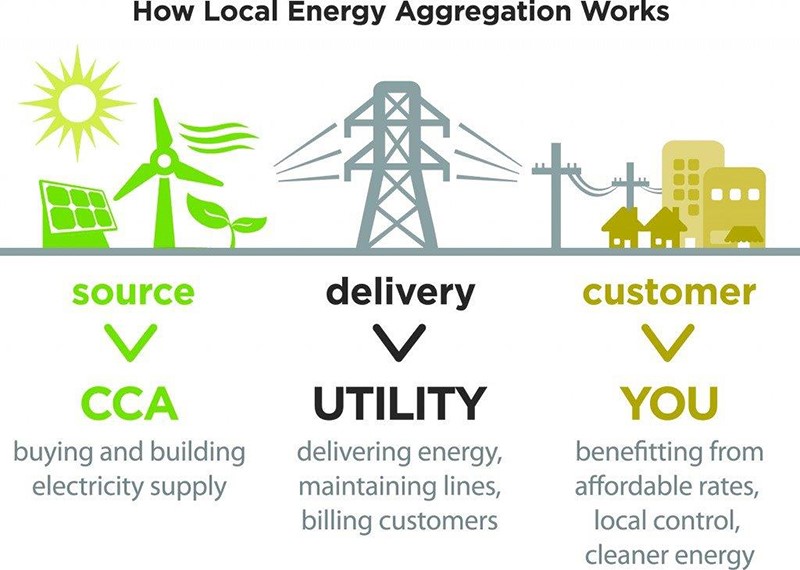 Whether it's tickets for a sporting event, or a health care plan, the concept is a familiar one: discounted entrance fee or membership for groups of individuals. The same concept applies to Community Choice Aggregation ("CCA"), a program where municipalities can use the influence of aggregation, or groups of customers, to negotiate discounted rates with private energy suppliers. In a CCA program, a municipality or group of municipalities act as an aggregator and broker for the sale of energy (gas and/or electric service) to residents. In addition to reducing energy costs for residents and small non-residential entities, the CCA empowers communities and individuals to select and promote clean energy.
On April 21, 2016, the Public Service Commission (PSC) issued an order authorizing the establishment of CCA programs by municipalities statewide. (See PSC Case 14-M-0224). In this Order, the PSC declared that the goals of CCA programs are aligned with the goals of Governor Cuomo's Reforming the Energy Vision (known as REV), which include "increasing the ability of individuals and communities to manage their energy usage and bills, facilitating wider market-based deployment of clean energy including energy efficiency, large-scale renewable and distributed energy resources and increasing the benefits of retail competition for residential and small non-residential customers." The PSC based this Order partly on the success of a CCA Pilot Program implemented by Sustainable Westchester known as the Westchester Power CCA Program. This pilot program includes 20 participating municipalities in Westchester County.
So, what kind of savings do CCAs deliver? The Westchester Power program promises that rates will be lower than the 12-month average for 2015 for Con Edison and NYSEG and the rate is fixed for 24-36 months.
Neil J. Alexander of Cuddy & Feder LLP provided pro bono counsel to Sustainable Westchester on several facets of that Pilot CCA program, including discussions with the NYS Attorney General's Office as to the legality of the program, and the negotiation of the salient documents such as a Memorandum of Understanding between Sustainable Westchester and each of its member municipalities, an Electric Service Agreement among Sustainable Westchester, its member municipalities and the responsible ESCO (Energy Service Company), and a Data Access and Mutual Non-Disclosure Agreement with the Investor Owned Utilities (IOUs).
Recognizing that CCA programs are a new and different approach to energy supply and a new and very different role for municipalities, the PSC tapped the New York State Energy Research and Development Authority (NYSERDA) to provide technical assistance including a CCA Toolkit which includes templates for the various required documents and community outreach materials. In addition to the NYSERDA guidance documents, the CCA Rules authorize a CCA Administrator, who can be a non-profit or consultant, or the municipality acting on its own behalf.
In a significant departure from other policies and programs, the PSC established that CCA Programs must be "opt-out" programs, where qualifying residents and small non-residential customers must affirmatively opt-out of the CCA, rather than sign up, or affirmatively opt-in. Based on CCA programs in other states, the PSC determined that a successful CCA program requires an opt-out set up. Given this opt-out requirement, community outreach and engagement are critical components of an effective and meaningful program, not to mention data protection for customers' data. CCA Programs also require that municipalities invoke their home rule authority and enact a local law to establish the CCA. As such, the ESCO is chosen by the municipality (or group of municipalities acting pursuant to a MOU) through a competitive procurement process. In addition, the PSC CCA Rules require the submission of an Implementation Plan, a Data Protection Plan and certification of local authorization (enactment of a local law) to the PSC for approval. The complete CCA Rules can be found in Appendix D of the Order.
So, what kind of saving do CCAs deliver? The Westchester Power program promises that rates will be lower priced than the 12-month average for 2015 for Con Edison and NYSEG and the rate is fixed for 24-36 months. And, every eligible customer of the Westchester Power program has the choice to buy 100% renewable supply for all of their electric needs.
Although CCA 1.0 is just getting started statewide, the projection is that CCA 2.0 will entail the development of energy efficiency and DER (Distributed Energy Resources) programs as well as otherwise engaging in a full range of energy planning and management activities. We all have to face the fact that energy sources are finite: yet energy demand is growing. CCA programs are one of the innovative ways that we can balance the supply and demand of energy to ensure a sustainable energy future.
The following materials, and all other materials on this website, are intended for informational purposes only, are not to be construed as either legal advice or as advertising by Cuddy & Feder LLP or any of its attorneys, and do not create an attorney-client relationship between you and Cuddy & Feder LLP. Please seek the advice of an attorney before relying on any information contained herein.