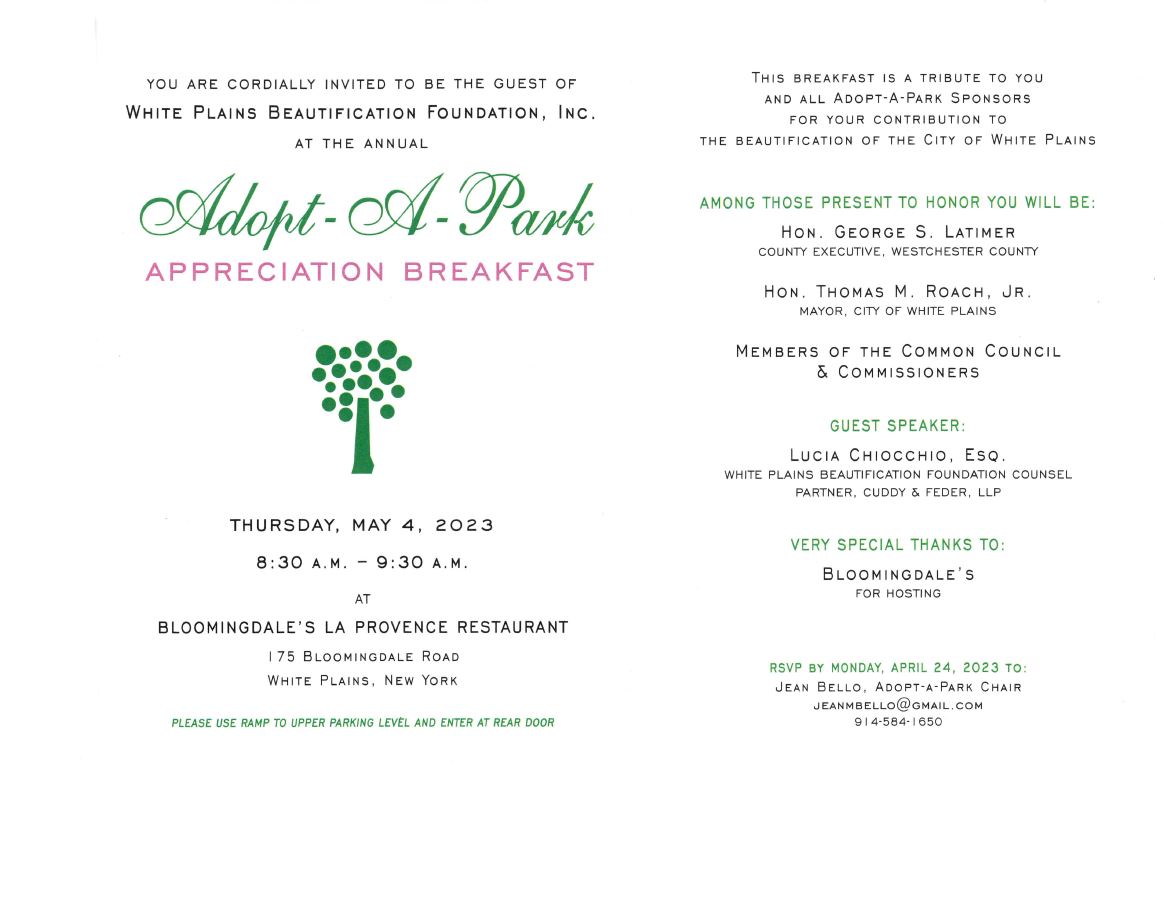 On Thursday, May 4, 2023, Lucia Chiocchio will be a distinguished guest speaker at the upcoming White Plains Beautification Foundation, Inc. Adopt-A-Park Appreciation Breakfast. This event will honor esteemed individuals including Hon. George S. Latimer, Westchester County Executive, Hon. Thomas M. Roach, Jr., Mayor of White Plains, as well as Members of the Common Council and Commissioners.
As a Major Adopt-a-Park Sponsor and in-kind donor, Cuddy & Feder has generously contributed its legal expertise and company resources to the Foundation for many years. Lucia Chiocchio has also been a dedicated legal counsel to the Foundation since 2003.
The White Plains Beautification Foundation is an independent, not-for-profit organization dedicated to fostering the growth of gardens and green spaces throughout the City of White Plains. Over the course of its 50-year history, the Foundation has raised over $4 million and funded the development and care of more than 60 gardens, community programs, and gifts to the city.
About Cuddy & Feder LLP
Cuddy & Feder LLP proudly serves clients in the areas of real estate; public and private finance (including tax-exempt and taxable bond financing); litigation & appellate practice; land use, zoning & development; telecommunications; energy & environmental; non-profit organizations; and trusts, estates & elder law. Over 45 years, we have established ourselves as the leading law firm serving a vast region that includes Westchester, New York City, Connecticut and the Hudson River Valley. Our foundation is local, and we enjoy enduring relationships with leaders, institutions and decision-makers in the communities we serve.
The following materials, and all other materials on this website, are intended for informational purposes only, are not to be construed as either legal advice or as advertising by Cuddy & Feder LLP or any of its attorneys, and do not create an attorney-client relationship between you and Cuddy & Feder LLP. Please seek the advice of an attorney before relying on any information contained herein.