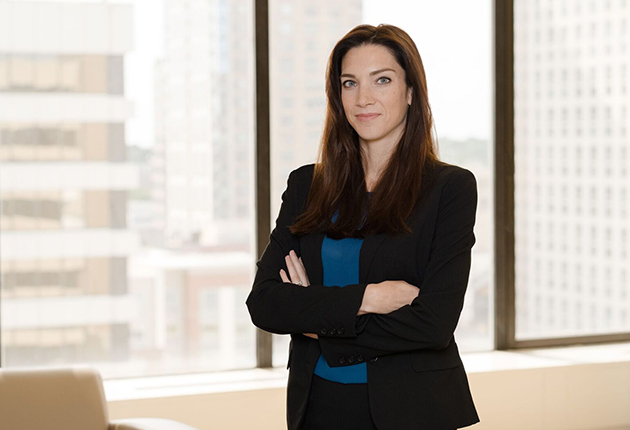 White Plains, NY – Nov. 9, 2021 – Cuddy & Feder LLP is pleased to announce that Kristen Motel, an associate in the firm's Land Use, Zoning & Development; Energy & Environmental; Telecommunications and Cannabis Law groups will be honored with the 2021 Millennial & Gen Z Award presented by Westfair Communications. The event will be held Nov. 18, at 5:30 p.m. at the Greenwich Hyatt.
Millennials represent half of the workforce, and it is predicted that by 2025, Gen Z will make up about 27 percent of the workforce in the world. The Millennial & Gen Z Award celebrates this new era in the workforce and recognizes those who are leaving their footprints in the technology and business communities of Westchester and Fairfield counties.
Kristen's practice includes federal, state and local environmental permitting and compliance, real estate development and wireless telecommunications siting. Her practice also includes advising clients in the emerging field of cannabis law. An active member of the Westchester County Bar Association's Cannabis Law Committee and the Hudson Valley Cannabis Industry Association, Kristen helps coordinate the progression of legal services needed to bring cannabis businesses from idea to reality. She also is a writer and lecturer in this field, presenting on cannabis law and regulation to bar associations, municipal boards and trade associations. Prior to becoming an attorney, Kristen worked as an environmental consultant serving as a compliance advisor for clients.
Kristen is deeply involved in leadership initiatives. She serves on the firm's Diversity Committee and is co-chair of the Summer Associate program. Her perspective has helped close the generational divide to attract and retain the best talent by understanding how to motivate the youngest generation of lawyers.
Kristen is an active member of the Westchester Women's Bar Association where she has served as Vice President and State Director, is a member of the Environmental & Land Use and New Lawyers Committees and mentors Pace Law School students to positively impact the development of the legal profession.
About Cuddy & Feder LLP
Cuddy & Feder LLP proudly serves clients in the areas of real estate; public and private finance (including tax-exempt and taxable bond financing); litigation & appellate practice; land use, zoning & development; telecommunications; energy & environmental; non-profit organizations; cannabis law; and trusts, estates & elder law. For 50 years, we have established ourselves as the leading law firm serving a vast region that includes Westchester, New York City, Connecticut and the Hudson River Valley. Our foundation is local, and we enjoy enduring relationships with leaders, institutions and decision-makers in the communities we serve.
The following materials, and all other materials on this website, are intended for informational purposes only, are not to be construed as either legal advice or as advertising by Cuddy & Feder LLP or any of its attorneys, and do not create an attorney-client relationship between you and Cuddy & Feder LLP. Please seek the advice of an attorney before relying on any information contained herein.