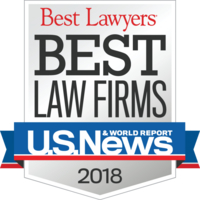 Cuddy & Feder was again recognized by US News & World Report Best Law Firms ranking for 2018.
Firms included in this list are recognized for their professional excellence with impressive rankings from clients and peers. The firm's White Plains office received a Metropolitan Tier 1 designation for Elder Law. According to US News & World Report and Best Lawyers, receiving a tier designation reflects the high level of respect a firm has earned among other leading lawyers and clients in the same communities and the same practice areas for its abilities, its professionalism and its integrity. The 2018 rankings are based on the highest number of participating firms and highest number of client ballots on record. To be eligible for a ranking, a firm must have a lawyer listed in The Best Lawyers in America, which recognizes the top 4 percent of practicing attorneys in the U.S.
Joseph P. Carlucci and Neil T. Rimsky were also selected by their peers for inclusion in the 2018 edition of The Best Lawyers in America©. Neil Rimsky is recognized in the area of Elder Law and Joseph Carlucci in the area of Project Finance Law.
The following materials, and all other materials on this website, are intended for informational purposes only, are not to be construed as either legal advice or as advertising by Cuddy & Feder LLP or any of its attorneys, and do not create an attorney-client relationship between you and Cuddy & Feder LLP. Please seek the advice of an attorney before relying on any information contained herein.