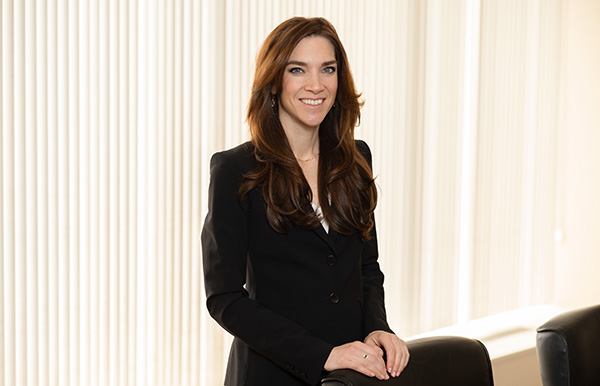 White Plains, NY – June 13, 2023 –Cuddy & Feder LLP is proud to announce that Kristen Motel, a partner in the firm's Land Use, Zoning & Development, Energy & Environmental and Telecommunications practice groups and Chair of the firm's Cannabis Law group has been selected as a "40 Under 40" 2023 Rising Star by the Business Council of Westchester.
Kristen's practice includes environmental permitting, compliance, real estate development, and wireless telecommunications siting. With a focus on securing approvals for controversial projects, she frequently represents clients before land use boards and permitting agencies at the federal, state, and local levels. Kristen is also well-versed in guiding applicants through the state cannabis application process and advising investors and businesses in all aspects of the cannabis industry.
She co-chairs the Real Estate Sustainability Committee of the Westchester County Association and also serves on the Executive Committee of the New York State Bar Association's Local and State Government Law Section.  Kristen is an active member of various professional associations such as the Westchester County Bar Association's Cannabis Law Committee, the Westchester Women's Bar Association and the Hudson Valley Cannabis Industry Association.  She is also an annual volunteer with the NY DEC Amphibian Migrations & Road Crossings Project.
Kristen regularly speaks about local land use and municipal considerations related to New York's adult-use cannabis legislation, sustainability and floodplain development.  She has authored several publications on climate change adaptation and a treatise update on cannabis and zoning regulations in New York.
Kristen's leadership extends beyond her legal practice, as she co-chairs to the firm's Diversity Committee and Summer Associate program. Her valuable perspective has bridged the generational gap, enabling the firm to attract and retain top talent by effectively motivating the youngest generation of lawyers.
The Rising Stars program is modeled after the national business recognition program "40 under 40." Rising Stars honorees exemplify leadership, foresight, and talent for the future of Westchester County. They are chosen based on their professional and/or entrepreneurial accomplishments, affiliations, and demonstrated leadership skills.
Kristen will be recognized alongside 39 other exceptional honorees on September 13 at a reception to be held at Million Air at the Westchester County Airport.
About Cuddy & Feder LLP
Cuddy & Feder LLP proudly serves clients in the areas of real estate law; land use, zoning & development; litigation; trusts, estates & elder law; public and private finance (including tax-exempt and taxable bond financing); corporate law; telecommunications; energy & environmental law; cannabis law; and non-profit organizations. Over 50 years, we have established ourselves as the leading law firm serving a vast region that includes Westchester, New York City, Connecticut and the Hudson River Valley. Our foundation is local, and we enjoy enduring relationships with leaders, institutions and decision-makers in the communities we serve.
The following materials, and all other materials on this website, are intended for informational purposes only, are not to be construed as either legal advice or as advertising by Cuddy & Feder LLP or any of its attorneys, and do not create an attorney-client relationship between you and Cuddy & Feder LLP. Please seek the advice of an attorney before relying on any information contained herein.