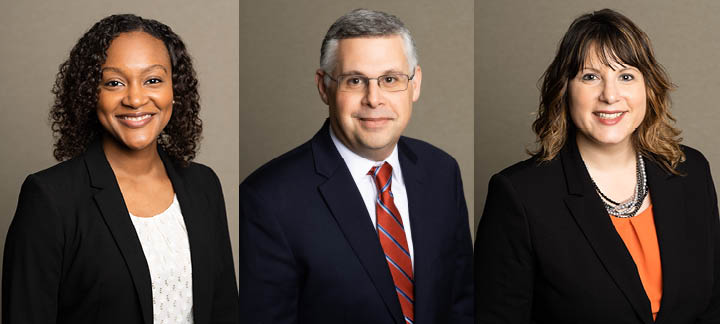 White Plains, NY – May 21, 2019 – Cuddy & Feder LLP announced the recent hiring of Associate Shanitra Lockett, Special Counsel Richard A. Sandor, Jr. and Associate Rebecca A. Valk, growing the practices of Real Estate; Land Use, Zoning & Development; and Telecommunications and complementing other practices.
Shanitra is an associate in the firm's Land Use, Zoning & Development, Energy & Environmental and Telecommunications groups. She previously worked as an Assistant District Attorney in the New York County District Attorney's Office and graduated from Benjamin N. Cardozo School of Law. Shanitra interned at both the United States Attorney's Office for the Southern District of New York and United States Attorney's Office for the Eastern District of New York. Prior to becoming an attorney, Shanitra worked as a Wholesale Territory Manager for Marathon Petroleum Company. Her worked included managing the distribution of oil in North Carolina and Virginia.
Richard is Special Counsel to the firm. With more than 20 years of experience, his principal areas of practice include commercial and residential real estate transactions, real estate financing, commercial lending transactions, leasing and corporate law. He represents banks, companies, organizations and businesses on a variety of corporate transactions, such as formation, joint ventures and other corporate matters. Richard received his J.D. from Albany Law School where he was an Edgar A. Sandman Fellow.
Rebecca is an associate in the firm's Land Use, Zoning & Development, Energy & Environmental and Telecommunications groups. Her practice includes municipal law, land use and zoning and related litigation. Prior to joining the firm, Rebecca worked at firms in Poughkeepsie, N.Y., representing various municipalities in planning and zoning issues. She also handled litigation in various areas of law. Rebecca previously worked as Assistant Corporation Counsel for the City of Poughkeepsie where she defended the City in proceedings before the New York Public Employment Relations Board and the New York State Division of Human Rights. She graduated from St. John's School of Law.
"We are thrilled to have Shanitra, Richard and Rebecca join the firm," said Christopher Fisher, Managing Partner of Cuddy & Feder. "They each bring a unique set of skills, enhancing the services we offer our clients. As we continue to grow our firm, we are proud of our expansion, but equally proud of our local roots and commitment to our communities."
About Cuddy & Feder LLP
Cuddy & Feder LLP proudly serves clients in the areas of real estate; public and private finance (including tax-exempt and taxable bond financing); litigation & appellate practice; land use, zoning & development; telecommunications; energy & environmental; non-profit organizations; and trusts, estates & elder law. Over 45 years, we have established ourselves as the leading law firm serving a vast region that includes Westchester, New York City, Connecticut and the Hudson River Valley. Our foundation is local, and we enjoy enduring relationships with leaders, institutions and decision-makers in the communities we serve.
The following materials, and all other materials on this website, are intended for informational purposes only, are not to be construed as either legal advice or as advertising by Cuddy & Feder LLP or any of its attorneys, and do not create an attorney-client relationship between you and Cuddy & Feder LLP. Please seek the advice of an attorney before relying on any information contained herein.