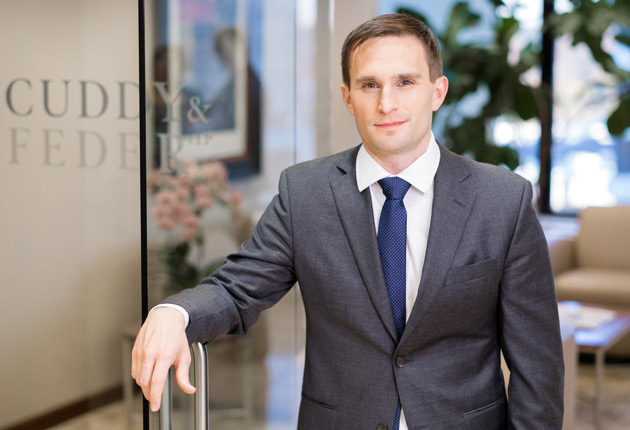 Brendan is Partner and Vice-Chair of the firm's Litigation Group. His practice is principally concentrated in complex commercial litigation matters in state and federal courts, white collar litigation and investigations, telecommunications litigation, and alternate dispute resolution. Brendan is known for his direct and distinctive writing and he brings an innovative and practical approach to resolving disputes for his clients. Brendan serves on the firm's Ethics Committee.
Prior to joining Cuddy & Feder, Brendan was a litigation associate in the New York City office of a top international law firm. His work included representing global financial services companies in litigation and governmental investigations relating to the 2008 subprime mortgage and credit crisis. He also represented clients ranging from Fortune 50 companies to individual Directors and Officers in complex litigation matters and in responding to inquiries and subpoenas from state and federal prosecutors, state attorney generals, government and financial regulatory agencies and self-regulatory organizations.
Brendan brings his expertise and passion to the service of his community. He is President of the Board of Directors of The Legal Aid Society of Westchester County and a past board member and Secretary for the Port Chester Carver Center. He has been active in pro bono matters, representing clients in criminal appeals, asylum and immigration matters, and applications and appeals to the Veteran's Administration.
While in law school, Brendan worked at the U.S. Attorney's office for the District of Connecticut and the Connecticut State's Attorney's Office.
Education
University of Connecticut School of Law, J.D., High Honors; 2007
Ithaca College, B.S., cum laude; 2003
Admissions/Courts
New York
Connecticut
US District Court for the Southern, Eastern, and Northern Districts of New York
US District Court for the District of Connecticut
Recipient of the Rising Star: 40 Under 40 Award honoring young professionals in Westchester County demonstrating excellence in their profession, 2019.
Paul Hastings 2010 Pro Bono Award for dedication and commitment to pro bono legal services.
Professional Associations
New York State Bar Association, Litigation Section
Connecticut State Bar Association
Presentations + Publications
"White Collar Investigations Primer for Main Street Companies"
Westchester County Bar Association
CLE Seminar, June 2018
Moderator
"Government Investigation & Enforcement Practice Primer"
CLE Seminar, May 2017
Presenter
"Peculiar Knowledge Doctrine in Credit Crisis Litigation"
NY Law Journal, October 2014
"Early Returns on Amended Rule Regarding Spoliation of ESI"
NY Law Journal, May 2016
From the Blog
Matters + Case Studies
Commercial Litigation
Won summary judgment, or preliminary injunction leading to settlement, on behalf of ExteNet Systems in multiple litigations in the Eastern District of New regarding interpretation and implementation of the Telecommunications act with respect to deployment of small wireless facilities.
Won summary judgment on behalf of AT&T in the Northern District of New York in a case of first impression in the Second Circuit regarding interpretation of FCC's 2018 Small Cell Order.
Representing MBIA, as certificate insurer of four related RMBS trusts, successfully defeated motion to dismiss action in the Southern District of New York seeking $6.8 million in damages against the trusts' master servicer based on allegations that master servicer improperly withdrew trust funds.
Won motion to dismiss on behalf of a regional pharmacy in a case in which a competing pharmacy sought over $10 million in damages and injunctive relief based on claims of theft of trade secrets. The New York Supreme Court, Commercial Division, dismissed all claims as asserted against our client based on the plaintiff's failure to allege that our client employed wrongful means as required in a theft of trade secrets case.
Won motion to dismiss on behalf of former directors and officer of a biotech company in a multi-million dollar lawsuit in the Southern District of New York based on allegedly fraudulent transaction in which the plaintiff sought to hold the directors and officer personally liable.
Represented global financial institution in two litigations involving the structuring, sale, and management of synthetic credit products.
Represented bond insurer in dispute against trustee, issuer and borrower regarding performance under terms of $30 million indenture.
Won summary judgment on behalf of large media company in intellectual property dispute in the Southern District of New York regarding ownership of popular comic book characters.
Represented international shipping conglomerate in corporate governance litigation regarding New York subsidiary in New York State Court.
Represented a media and arts company in litigation and subsequent negotiations regarding major development on the Hudson River.
White Collar Litigation and Investigations
Represented skilled nursing facility in defense of False Claims Act case brought by US Attorneys' Office.
Represented individuals and entities in responding to CID's issued by United States Attorneys' Office in connection with False Claims Act investigation in PPP loans.
Represented a New York City based construction company as part of industry wide investigation by US Attorneys' Office.
Represented global financial institution in FINRA investigation regarding supervision of brokers and advised company on implementation of enhanced compliance measures.
Represented real estate focused financial institution in investigation by US Attorneys' Office, SEC and other federal agencies.
Represented and advised global financial institution in CFTC enforcement action and subsequent internal investigation and implementation of remedial compliance measures.
Arbitration
Won arbitration proceeding on behalf of developer in dispute with former partner of distribution of proceeds from low-income housing tax credit project, with former partners claims dismissed in full following hearing.
Secured an arbitration award of approximately $2.75 million, including attorneys' fees, for developer in breach of contract action against HOA based largely upon the HOA's interference with the developer's ability to market and sell lots.
Represented insurance conglomerate in non-compete dispute with former employer, leading to settlement in full amount of claim.
Community Service
President, The Legal Aid Society of Westchester County, New York
Volunteer, Catholic Charities, Connecticut
Extracurricular
Brendan enjoys golfing, running, gardening, and kayaking with his children.