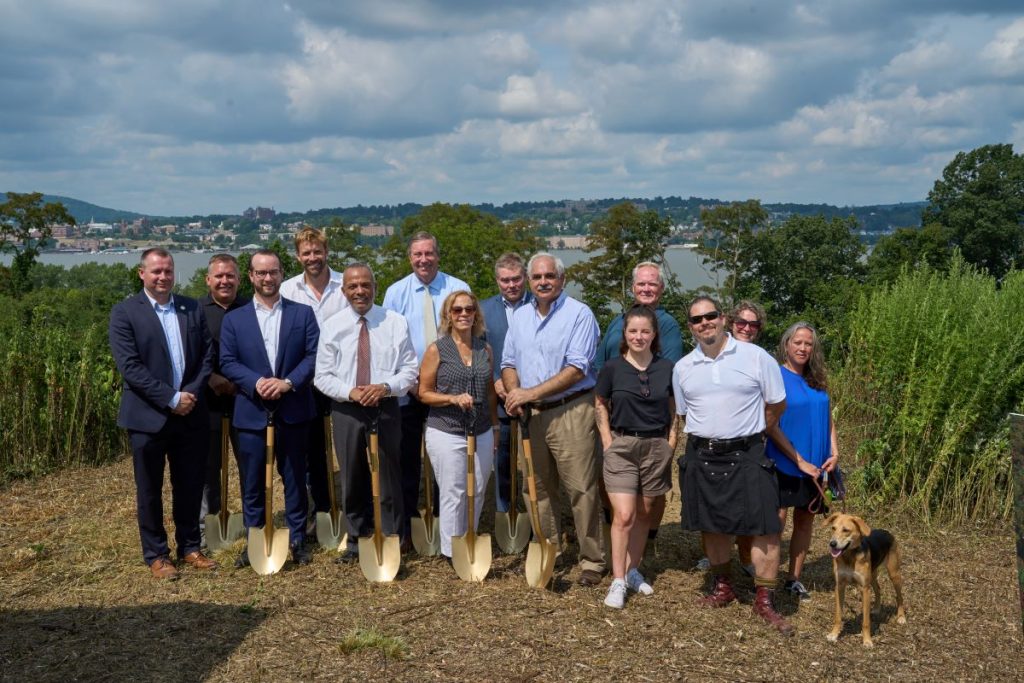 Photo courtesy of CPC/Fish and Crown
Taylor Palmer, a partner in the Firm's Land Use, Zoning & Development and Energy & Environmental groups, assisted developer Rodney Weber and Scenic Beacon Developments, LLC, break ground on the Edgewater project—a $50 million multi-family residential housing development on the waterfront in the City of Beacon—the largest residential rental project in Beacon in decades.
The 246-unit multi-family rental development includes 25 affordable-workforce housing units and the development will include a mix of studio, one-bedroom, two-bedroom and three-bedroom units. The development is located on a 12-acre waterfront site within walking distance of the Metro-North Train Station, with easy access to major highways, retail, and dining and entertainment venues along the City's Main Street.
The energy-efficient development overlooking the Hudson River works to address housing needs in the Hudson Valley and in the City of Beacon. The construction of this development comes at a critical time when Beacon and other local communities across New York are experiencing a crisis of housing availability and affordability.
Photo courtesy of CPC/Fish and Crown
Cuddy & Feder was proud to assist the Edgewater team from the acquisition of the property through the local land use and development approval process and ultimately through to the closing on the construction financing to break ground on this exciting project.
Scenic Beacon Developments, LLC, The Community Preservation Corporation, the City's Planning Board, City Council and Zoning Board of Appeals, Salisbury Bank and Trust, Orange Bank and Trust, and other development partners and supporters all played an important role in breaking ground on the Edgewater project.
About Cuddy & Feder, LLP
Cuddy & Feder LLP proudly serves clients in the areas of real estate; public and private finance (including tax-exempt and taxable bond financing); litigation & appellate practice; land use, zoning & development; cannabis law; telecommunications; energy & environmental; non-profit organizations; and trusts, estates & elder law. Over 50 years, we have established ourselves as the leading law firm serving a vast region that includes Westchester, New York City, Connecticut and the Hudson River Valley. Our foundation is local, and we enjoy enduring relationships with leaders, institutions and decision-makers in the communities we serve.
The following materials, and all other materials on this website, are intended for informational purposes only, are not to be construed as either legal advice or as advertising by Cuddy & Feder LLP or any of its attorneys, and do not create an attorney-client relationship between you and Cuddy & Feder LLP. Please seek the advice of an attorney before relying on any information contained herein.